While other industries faced a decline last year the consumer goods industry managed to not only stay afloat but also succeed. How can CPG companies sustain this success and capitalise on it further?
Competition in the CPG industry is fierce. Every business leader in CPG companies is often faced with a catch-22 situation where despite having a large amount of data and analytics, determining which data set can be most accurate in understanding consumer behaviour becomes challenging.  For every CPG wholesaler, distributor, or retailer, the goal is to improve efficiencies, reduce costs from their supply chain and manage margins to squeeze as much profit as they can.  The consumer packaged goods industry uses a variety of metrics to monitor business success. However, to drive business strategy with the data an understanding of the key performance indicators (KPI's) and enabling the salesforce to achieve these KPIs is foremost.
According to Nielsen, CPG KPIs can be classified under five categories:
Sales Volume
Market Share
Distribution
Velocity
Pricing and promotion
Each of these categories comprises several KPIs, each of which could hold more relevance for one CPG company over the other. One of our customers one of the largest food manufacturers and distributors in the world, have as part of their salesforce enablement an important focus on achieving the following KPIs:

The aforementioned KPIs are further broken down into targeted KPIs such as shop score, % stores selling etc. for each level of salesforce from feet on street to area managers.
Agile Sprints of Enablement
Irrespective of the KPIs a CPG company focuses on, their field representatives continue to perform a wide array of activities. In the next 12-24 months, to successfully achieve all its KPIs the consumer packaged goods industry will have to adopt a more agile model of enablement and operations across its value chain. Marketing will have to become less focused on gut feelings and more on data analytics, while product development & innovation will be driven by consumer-generated feedback. Most importantly, sales force will have to be upskilled and reskilled to generate greater revenue.
The sales enablement process, arguably, is going to be radically transformed by AI more than any other aspect of operations. With the growing influence of automation and AI in the industry, the companies will need to reskill their existing salesforce to align with changing nature of KPIs. How can CPG companies marry these disparate processes to create a more agile sprint for success? Here are three ways in which CPG companies can enable their salesforce to succeed in their key performance areas and drive higher revenue generation:
Hyper-personalising content delivery process
CPG companies routinely develop marketing content and other material for their field representatives, however, most of this content continues to be under-utilised leading to lower retention amongst the distributors. To enhance and personalise the sales readiness of its frontline the industry can adopt new approaches like game-based microlearning.
Case in Point: Enhancing Field-Force Readiness With Role-Based Enablement Journeys
One of our customers looking to enable their 2000+ sales force have created role & capability based learning pathways. These pathways comprise of microlearning modules, covering several important areas such as beat planning, merchandising and distribution.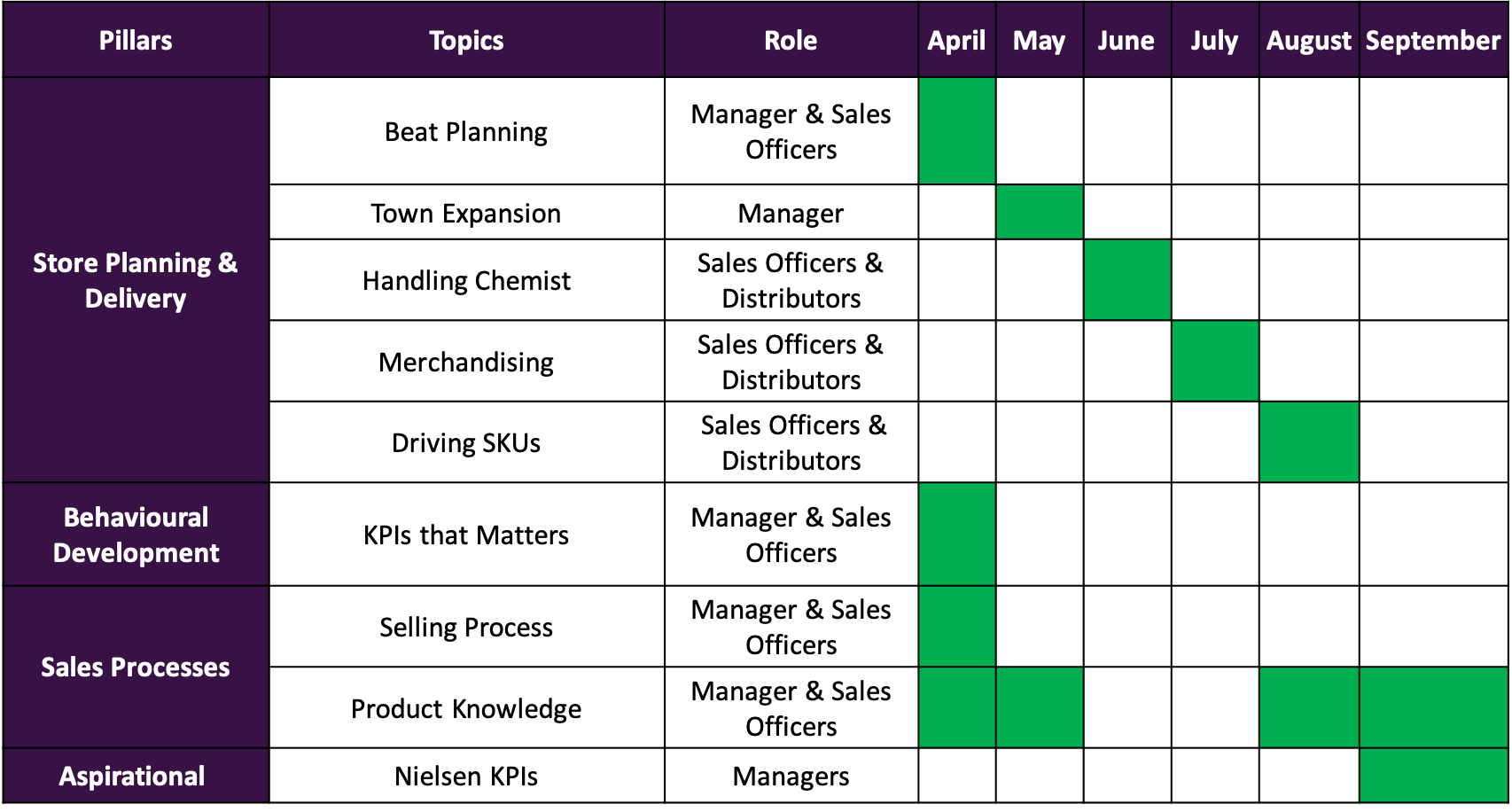 This approach to content creation and delivery has enabled the organisation to hyper-personalise the content delivery process and map each KPI with a course. Empowered with the right insights on content difficulty and engagement sales trainers are able to create more relevant & hyper-personalised sales content enabling the salesforce to pivot conversations to address the right buyer/retailer needs.
2. Seamless integration with systems to capture KPI based enablement
Performance on KPIs across industries has traditionally been captured on performance management systems, while sales enablement has traditionally been done through classroom training. Integrating sales enablement across the HRMS, PMS, Lead Management and CRM systems will present contextual experiences to the distributors and area managers. As consumers of hyper-personalized information, the distributors can become more adept at targeting the right information to the retailers and consumers. These integrated workflows with the lead management system can ensure proactive and reactive interventions to the distributors. For example with information on content adoption and skill gaps, high performing business development officers can be mapped to high-value regions thereby ensuring higher store conversions.
3. Enabling sales leaders with data insights and metrics
With a steady increase in competition and only minor product differentiation, creating a consumer-friendly buying experience can become a key differentiator in the CPG industry. To make this happen, while the sales enablement of the frontline is crucial, the enablement of the sales leaders is equally important.
Sales organisations have a lot of data on their sales reps' performance over the years. Sales leaders need to be enabled with insights on how the pace or accuracy of enablement for a sales rep can be linked with the sales KPIs of their organisation. Today's sales enablement tools are becoming systems of intelligence with their ability to study large sets of data on how distributors view and consume their content, answer quizzes and assessments, practice skills and respond to feedback. By analysing the learning data, we can identify the skills and competencies that the sales reps are developing or struggling to develop. For sales leaders, these data points can help in forecasting important business decisions about team restructuring, upskilling, salesforce planning, to further enable their sales reps to generate and close more deals. Employing knowledge checks with carefully designed games can provide sales leaders and managers insights into how new hire sellers are developing their skills to do course correction when necessary.

Case in Point: Enhance Learning Outcomes Through Actionable Insights For Business Leaders
A large FMCG organisation is using data insights generated through the Master-O platform on skill gaps, learning agility and learning habit formation to drive sales conversations amongst sales managers and the frontline.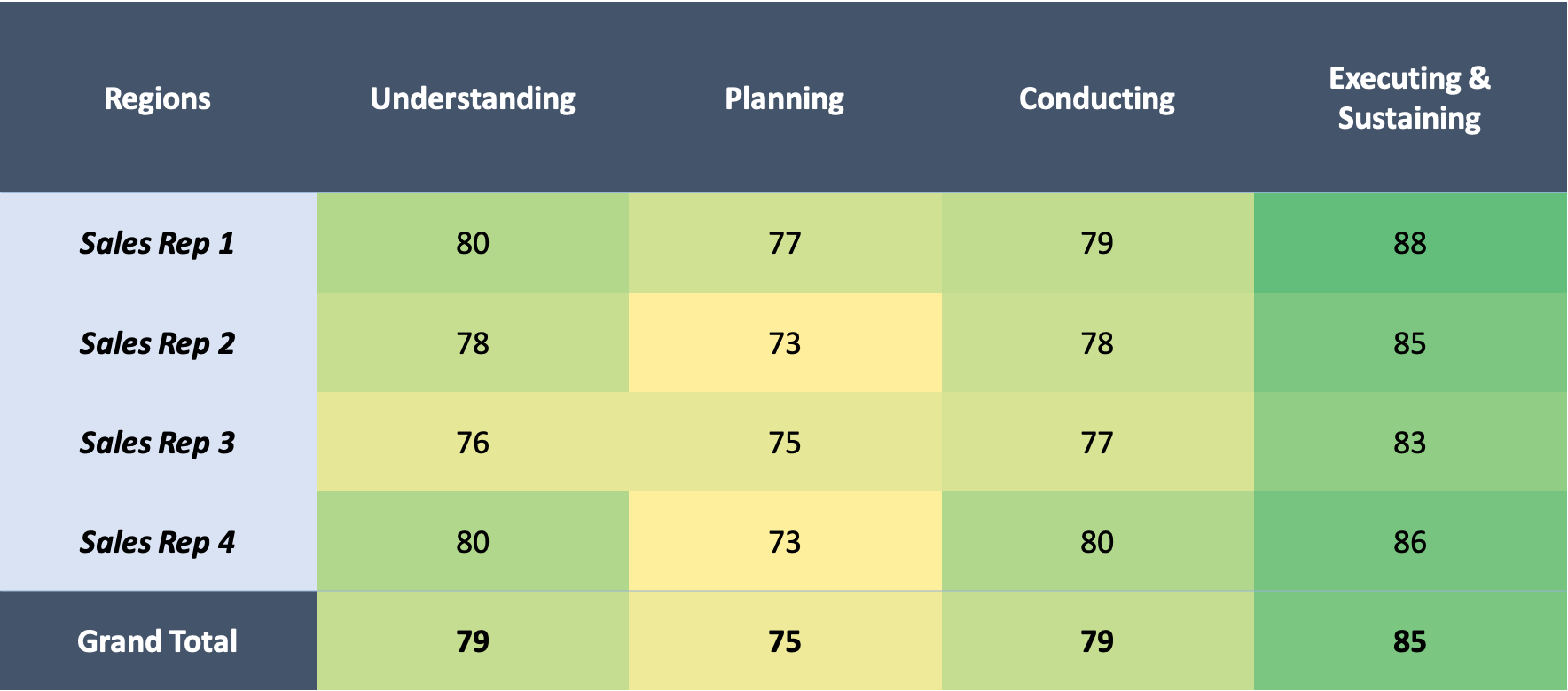 Insight: Sales representative 3 has lower retention of key concepts of Understanding, Planning and the conducting of mer activity. These insights are regularly used in the sales meetings to understand the performance of the sales teams and identifying their areas of improvement.
The CPG industry can learn from other highly successful organisations how digitizing their value chain can help them meet consumer needs and reduce their distance to their consumers. With agile enablement, the consumer packaged goods companies can generate higher revenue and more profits in the next 12-18 months.
Learn more about how CPG companies can enhance their success by Rethinking Customer Experience In The Consumer Packaged Goods Industry.
About Master-O
Master-O provides an all-in-one sales enablement platform that ensures sellers have the skills, knowledge, and content they need to optimize team success in a virtual world. In place of traditional training and content enablement tactics – which are rapidly outdated and often ineffective – Master-O empowers reps with the activated content they need to close deals faster, and the personalized coaching and learning they require for continuous improvement. Nearly 250,000 sales executives leverage Master-O to revolutionize the way they onboard, train, collaborate and sell.
To learn more about Master-O and learning and enablement in the flow of work, please visit masteroapp.com or schedule a demo to discover how Master-O can redefine sales enablement for your organization.