Today the traditional sales training and enablement programs are not meeting the fast-changing business environments and the expectations of business leaders. In order to improve sales teams' efficiency and productivity, organisations have implemented several new technologies and programs. The frontline executives' performance is a result of a well-designed sales plan and how efficiently they have been trained and prepared to address the needs of the organization's customers. Customer-facing employees' should be provided with the right information, tools and aids to deliver an exceptional customer service. This is where a Sales Readiness Platform becomes relevant by enabling frontline executives with focused content and ongoing engagement.  
5 Critical Success Factors While Choosing The Right Sales Readiness Platform For Your Organization
1.       Learning Engagement
The learning needs of frontline teams vary as opposed to other levels of the organization. Frontline teams are pulled in many directions daily like team huddles, client interactions, conversion, reporting, activity tracking (CRM/ attendance updates), et al which can make learning seem like an optional activity due to time constraints. This is even more prominent if the learning format is disengaging and conventional like PPTs, and PDFs that are text-heavy. An ideal sales readiness platform delivers a convenient and engaging learning experience via microlearning, bite-sized videos, content, and hyper-casual gaming to make learning interesting and effortless.
2.       Knowledge Reinforcement
Many organizations spend enormous time and resources on different types of training. Typically, these formats of training are immediately followed by one-time assessments to measure the knowledge retention of the frontline reps. These one-time assessments unfortunately do not represent the dissipation of information that happens over a period. To achieve the desired results via training, the imparted knowledge should be propounded repeatedly over time so that frontline reps are able to internalize the knowledge. Through such repetitive exposure, they can significantly improve their understanding and application of training.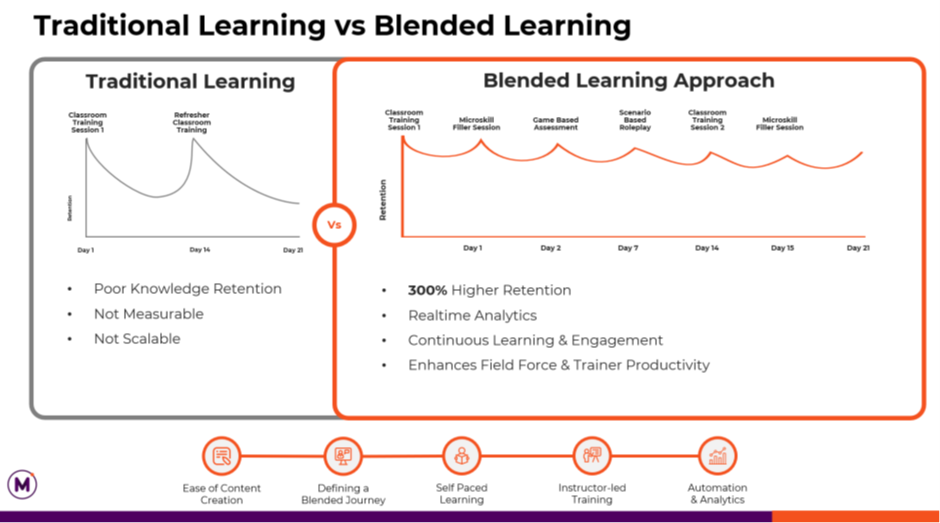 3.       Leveraging Content
Relevant, repetitive, frequent and engaging content is the fuel that drives successful sales readiness. Organizations today have high-quality content on skill and technical aspects but are challenged in making this content appealing and do so in less time. They often rely on third-party support and tools which need considerable time and effort for the turnaround. This is a fundamental challenge, and a good Sales Readiness Platform makes content repackaging into engaging formats easy for the content creators and accelerates their pace to launch to the learners. This benefits the learning delivery and its impact.
Also, read- Sales Readiness Platforms You Can Use To Ramp Up Frontline Productivity
4.       Application of Learning
Most of the platforms are generally focused on knowledge transfer which is just the initial step in creating readiness. Ideally, knowledge transfer needs to be backed by a mechanism of testing the understanding of the learner immediately. Gamified microlearning has emerged as a highly preferred mechanism for driving the application of learning. To further boost the readiness of the frontline reps and create consistency in their way of engaging and pitching to clients, AI backed roleplays can be highly effective. For example, an organization has 5,000 frontline reps who interact with at least 10 customers taking the daily interactions to 50,000. Through an AI-Backed Roleplay, featured trainers can push different scenarios like answering objections or customer grievance redressal to their frontline teams. Frontline reps can watch a sample video of this scenario and record a video of themselves to better assimilate the nuances of the targeted skills and competencies for which the scenario was designed. They can get immediate feedback about the quality of their pitch, and their conversational and messaging score. This immediate feedback helps them understand their skill gaps and improve their confidence through repeated practice, thereby enabling them to master the skill & build consistency in customer interactions. Training leaders can save bandwidth through such automation and focus on driving interventions across skill gaps as well as focus on improving skills on the job via joint field work, customer interaction observations, mystery audits, et al.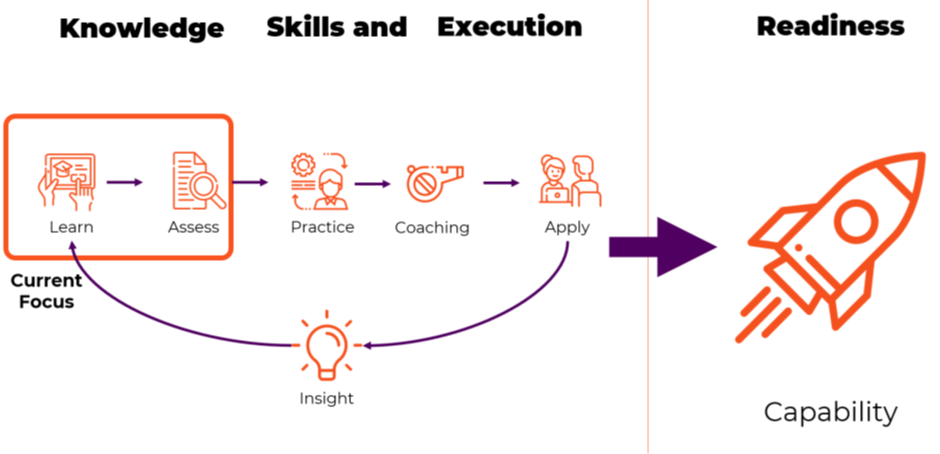 5.       Data Insights and Analytics
Data insights and analytics are crucial for business leaders in assessing the readiness of their frontline teams as well as taking measures of improvement. A strong Sales Readiness Platform is able to provide data insights beyond the completion and login scores. For example, the measurement of skills and competencies of the frontline force, areas of improvement and areas of strength, learning agility, et al. The capability of a platform to deliver such data insights not only helps training leaders but business leaders as well to take stock of the preparedness of their frontline team.
About Master-O®:
Master-O®, a frontline sales readiness platform, has aided several sales enablement & frontline readiness programs for enterprise customers and has been a key driver of sales strategies for many industry leaders. To make the learning experience more personalized, Master-O helps sales managers tap into various data points and analytics for coaching & upskilling their team. This gives sales leaders and managers much-required objective perspective to reimagine their coaching approach and realign it with performance metrics.
To learn more about Master-O, please visit masteroapp.com or schedule a demo to discover how Master-O can redefine sales readiness & frontline capability development for your organization.