It is safe to say that the importance of a robust sales enablement & readiness platform is recognized  by most organizations globally. However, making the right choices on the right strategies & near term trends that will best drive revenue generation need to be constantly reviewed and benchmarked.
Thankfully, we've done the hard work for you!
If you are looking for new trends to incorporate into your existing sales readiness & sales enablement practices for next year, here are 22 trends that could become pivotal for your organization's growth in 2022!
Trend # 1: Why LMS Will Not Work For Frontline Sales? [MEGA TREND]
Often enablement leaders wonder what is the missing link in making their existing LMS platform boost frontline productivity. Here are three reasons what an LMS lacks when it comes to enabling the frontline reps
a)     Need for more specific workflows that are unique to sales reps and field force
b)     Metrics like adoption rates, completion rates, likes, and feedback are not adequate to address the linkage between sales readiness and sales productivity
c)     Need for a structured & focused approach to upskilling sales reps as opposed to content recommendations that are better suited for managers and senior executives to choose their learning pathways
Hence, investing in a sales readiness platform will be more effective in upskilling frontline teams. Here are more details on why this mega trend cannot be ignored by your organization.
Trend # 2: From Sales Onboarding To Everboarding
Even though we find sales leaders are laser-focused to enhance their existing onboarding programs, it is now time to ask whether that is enough. The need of the hour is to be constantly ready and not only up to date on new skills or products. This can be achieved through everboarding. Sales everboarding ensures that sales repshave the agility to sell across environments – in person, hybrid, omnichannel – and stay tuned-in to the changes in their customer's preferences & buying patterns among many other things.
Trend # 3: Creating & Using An Ideal Sales Profile
In addition to everboarding, a crucial aspect of onboarding is creating a fitting sales profile that can be used for hiring, onboarding, engagement, upskilling and more! This not only leads to a faster ramp-up time, but it also helps in optimizing and standardizing the recruitment and onboarding process.
Do you have an Ideal Sales Success Profile for each of your sales roles, across each channel today?
Trend # 4: Pre-Call Sales-Readiness Use Case Will Gain Further Traction [MEGA Trend]
The best time for customer-facing employees to learn and then apply any skill is right before the sales call or customer conversation. It is the most likely time when a sales rep will feel the need to get enabled, upskilled, or view valuable information to engage with customers.
Furthermore, there has never been a better time to leverage this mega trend as platforms are built on open API standards, meaning it's easier to create customized Pre-call sales-readiness workflows by gathering data from CRM or Lead management systems to triangulate what the customer is likely to ask and hence what the rep needs to prepare. We also spoke about this in the context of how specific industries are leveraging this megatrend here.
Trend # 5: From Skills Coaching to Deal Coaching
While skill-based coaching has been a constant for upskilling sales teams, when it comes to short-term success, deal coaching can create more laser-sharp focus on enhancing the outcomes of a deal! This type of coaching involves a buyer-focused approach which aims at coaching reps on how to close the deal with a potential lead in a live opportunity. Expect this format of coaching to gain wider acceptance than it already has!
Trend # 6: Leveraging Video Assessments For Online Courses
A major missing link in online sales coaching practices is the level of engagement that role plays and in-person training bring. Video assessments can be used to bridge this gap. For instance, reps can go through a newly launched product brochure and then demonstrate how they would make a pitch to a particular customer segment via scored video assessment.
Trend # 7: Leveraging Role Specific Sales Metrics
To get the best results out of your sales enablement program it is essential to focus on sales metrics. However, what many enablement leaders overlook is focusing on the sales metrics relevant to the roles of the employees. For instance, the number of calls made per month could be a relevant sales metric.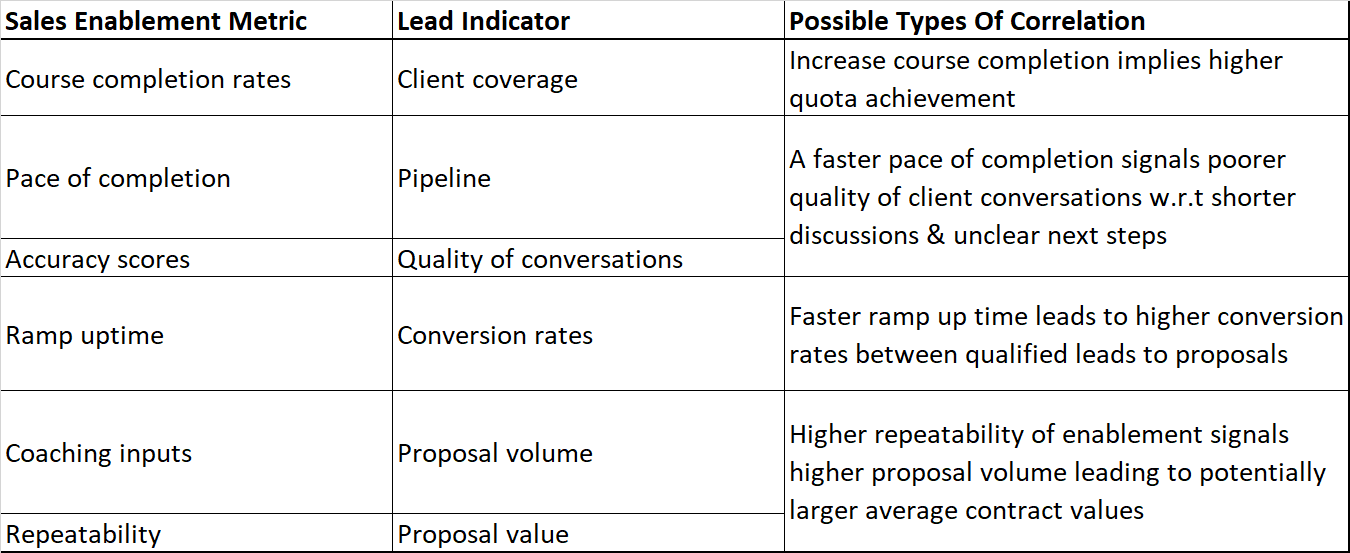 Here's Master-O's latest Sales Readiness To Performance framework for more insights. More on this in 2022!

Trend # 8: Putting The Sales Reps In Their Buyer's Shoes
To close more deals, one of the key skills that sales reps need to have is that of understanding things from the buyer's perspective – Buyer Empathy. Hence, it is important that sales training curriculums maintain a balance between product messaging and understanding how to sell based on the buyer's persona while better understanding the buyer's context as deeply as possible.
Trend # 9: Using Scorecards For Sales Readiness Planning
Scorecards take enormous amounts of data from course materials, assessments, coaching assignments, sales activity / performance and consolidate it for each sales rep. This makes it easier for sales leaders to understand better what matters, what should be the focus areas of improvement, and provide the right inputs at the right time. Scorecards will also be used in 2022 as early warning indicators to improve forecasting of future sales & salesforce engagement or attrition.
Trend # 10: Practicing Responsive Enablement Strategies
Imagine your competitor launches a new product. To quickly prep sales reps to deal with customers making comparisons with the newly launched product, enablement leaders need to come up with quick to action strategies. This could be in the form of instant readiness for reps to demonstrate how to handle competitor linked objections that would ensure team wise consistency and minimize the negative impact from competitor-led innovation.
Trend # 11: Making Sales Reps' Downtime More Productive [MEGA TREND]
Sales reps often find very little time to go through long-form training material while working. However, it is necessary that they are confident to sell across the product portfolio and upskill themselves to stay competent and productive. This could be addressed habitually during their downtime. Virtually delivered microlearning modules reinforce learning in a short period by keeping the sales reps connected with the topic, which leads to higher retention and application of learning. Furthermore, gamification and game-based learning make the content more engaging and habitual for practice and rehearsal. This mega trend, coupled with enabling sales reps at the pre-call stage is a winning combination for sales leaders to leverage in 2022. More information on this can be read here.
Trend # 12: Coaching With A Purpose In Mind
With the growth of technology and new platforms, there are many new approaches and strategies in the field of sales coaching. As a result, sales coaches and trainers often feel overwhelmed while making the right choice. Keeping the purpose of coaching the sales reps in mind will become useful for sales managers to decide on the best coaching program to drive the desired results.
Trend # 13: Measuring Business Impact Through Sales Readiness More Dynamically & In Real-Time
Sales leaders & channel heads have volumes of performance data for each sales rep. Besides mere correlation with course completion rates, sales leaders can how look at more meaningful data to build better linkages between sales readiness results and business outcomes. Furthermore, on the basis of these linkages, we're likely to see organizations creating more predictive business rules that will modify and personalize sales readiness per sales rep and constantly align it per each customer's requirement.
These workflows and additional readiness data points can be used to directly link with sales reps' KPIs. Clustering your salesforce will enable leaders to have a real time understanding on their state of readiness & the probability of lift in sales productivity per each specific input that a rep would need to undergo. Imagine telling a sales manager he can improve sales conversions by 30% if a specific workflow/ module or task gets accomplished by his rep within a specified time! This trend can ensure ongoing alignment across the sales function and commercial organization while providing fluid insights on how each action step and build up and lead to revenue generation.
Trend # 14: Leveraging Conversational Intelligence
According to an Allego report, 84% of buyers say reps don't convey value effectively when selling virtually. Leveraging a sales enablement platform that uses AI, records, and analyzes sales calls can be a huge plus to existing sales enablement programs. Furthermore, conversational intelligence can give concrete snippets of insights to sales managers to help their teams uncover blind spots that could be roadblocks to faster closures and higher conversion rates, among other factors.
Trend # 15: Originating Enablement & Readiness Content From Sales Reps
Taking inputs from sales reps regarding what content is best suited for them to close more deals and maintain sustainable relationships with buyers will gain more traction. As the broader theme of the Creator Economy gathers momentum, this trend could give sales trainers, marketers & product managers insights that can optimize their content library to better address the current and pressing needs of the field force.
Trend # 16: Content Creation Or Repackaging For Sales Readiness To Become Faster And More Frequent [MEGA TREND]
Sales renablement leaders are often reviewing effectiveness data to discern skill gaps among sales reps. Given that skill gaps would become more fluid to address, content creators – be it product managers, marketers or sales trainers – will have their work cut out if they have to iteratively keep churning out content at scale and at speed. In 2022, sales readiness platforms would be required to cut down the time for content creation or repackaging by anywhere from 70% to 95%! This would enable content creators to constantly calibrate content and build specificity and personalization in the enablement & readiness experience for sales reps. It would also allow sales leaders to better understand the extent of effort or readiness cycles it would take to bring the state of readiness across the entire salesforce to a certain minimum threshold, which they feel confident would lead to higher sales productivity.
Master-O is one such sales readiness platform that content creators can leverage to convert existing PowerPoint presentation into more interactive microlearning modules within seconds! The platform also offers easy-to-use templates and a diverse library of game-based assessments and micro interactions to make the learning & readiness experience more engaging & effective for frontline reps. More information can be found here.
Trend # 17: Peer To Peer Sales Readiness & Learning
This learning approach involves leveraging product and process-related knowledge shared by high-performing reps with their fellow team and work members. Using a sales readiness platform to organize and share peer learning content, reps can be rapidly upskilled and learn through the contextual experiences of their teammates, making the learning more relevant to their territory and customer base.
Trend # 18: Focusing On Developing Personalized Learning Journeys
To reap maximum benefits of a sales enablement program, it is important to focus on personalized recommendations for each sales rep rather than having a rigid structure for the entire salesforce. This could include
Accommodating personal preferences and learning styles for each front line employee
2. Making personalized learning recommendations that are not open ended but linked to specific client opportunities
3. Tailoring each sales rep's learning journeys based on their performance
Trend # 19: Seamless Integration With Existing Client Applications [MEGA TREND]
Most organizations have a host of applications for tracking sales, managing performance, and so on. These platforms usually are rich in data which could make your learning initiative more comprehensive. Hence, investing in a sales readiness platform that can be integrated with existing CRM, lead management & performance management systems would become a major advantage.
a.     Integration with PMS to give course correction to sales reps in real-time. For example- if sales coverage is poor, integration with PMS can enable content on enhancing prospecting and initial 30-second pitch to generate more meetings or enhance coverage
b.     Integration with CRM or Lead management can map the specific readiness for the sales rep with the customer's lifecycle or requirements. For instance, if a prospect has shown interest in a term loan, this integration can ensure the sales reps goes through the key questions to validate the requirement for a term loan along with going through the 4 to 5 key messages how their term loan insurance policy is more apt compared to the competition
More about this Mega Trend can be read here.
Trend # 20: Expanding Sales-Readiness To Include All Customer-Facing Workforce
The term and scope of sales readiness will become more broadbased in 2022 and expand from focusing only on sales reps, trainers, and managers to all employees, disitributors and channel partners who are in a customer facing role. This could include customer service, operations, technicians, delivery agents and many other frontline roles where the importance of providing a seamless customer experience is paramount and the scale of hiring, onboarding and developing the workforce is challenging without the use of a technology enabled platform. Expect sales readiness platforms to be leveraged by organizations for non sales workforce in 2022 & thereby address previously unimagined use cases.
Trend # 21: Enhanced Coordination Between Sales And Marketing Teams
Facilitating sales and marketing teams to communicate regularly on lead quality, ongoing customer trends, content generation, and so on will become more prevalent through sales readiness workflows. In 2022 we expect sales readiness platforms will provide deeper insights and collaboration between both teams and blur the boundaries between both functions, thereby creating opportunities for both upstream and downstream marketing-led innovation and faster go-to-market.
Trend # 22: Sales Readiness Platforms To Become The Better Half Of CRM Or Sales Force Automation Platforms
Sales readiness platforms will go on to become the go-to tools for maximizing conversions of each customer interaction and enhancing the quality of customer interactions. Furthermore, sales reps could be ring-fenced with all aspects of sales readiness and enablement including rewards & recognition, KPI & incentive tracking, among other workflows. Examples on how customers can make sales readiness platforms more indispensable can be found here.
So these were our pick of 22 trends which could be the focus area for sales leaders in 2022. If you think we have missed out to talk about any key trend which could be kept in mind for the coming year, reach out to us at [email protected]!