A combination of four factors, namely demographic changes, evolving consumer preferences, more informed buying decisions and a focus to increase operational efficiency were already creating transformation in the life insurance industry.
At the peak of the 2020 disruption, the focus for business leaders was in ensuring business continuity, while planning new initiatives to ensure future readiness in the new normal.
Covid-19 also catalyzed life insurers to prioritize their efforts in improving customer centricity, developing faster go-to-market models, making processes intelligent, building business resilience and embracing an open technology ecosystem.
As a result, three key takeaways have emerged in the last 12 months, which are likely to further gain momentum in 2021 & 2022.
1.       Insurers are now generating more business with less in-person & more omni-channel interactions
2.       Consumers are expecting faster turnarounds, which is leading to more automated and accelerated underwriting by insurers such as Straight Through Processing, among others
3.       The reasons for buying life insurance have changed in the past 18 months. Among other reasons, transferring wealth across generations and supplementing retirement income rank the highest
Despite these trends, global insurance penetration remains low. Even in mature markets like the US, there is an estimated life insurance coverage gap of $12 trillion according to LIMRA. Taking both the underinsured and non-insured buyers together creates an extraordinary opportunity for life insurance companies across the globe, but especially in Asia.
This has accelerated life insurance companies to up their game when it comes to investing in newer ways of enabling front line sales teams and enhancing sales productivity. .
Over the years, the traditional insurance sales model   has proven remarkably resilient compared to the travel, entertainment and retail industries.
However, the factors mentioned above have shown insurance is not immune to digital transformation.
Based on our work in the life insurance industry, we believe four critical factors will shape how life insurance companies will enable, upskill & engage front line sales & customer service teams to boost new business premiums, sustain high persistency rates while enhancing the insurer's Embedded Value.
1.       Automation within workflows across the sales rep and customer lifecycle
Building automation in workflows reduces any time lag that manifests while onboarding new hire sales reps, preparing reports for managers to act, escalating critical workflows to regional or zonal sales leaders and many other such instances.
The approach also ensures visibility and constant alignment across a large, diverse and mobile salesforce through the year and across business cycles. In an industry where regulatory changes occur at infrequent and unannounced intervals, automation also acts as a tool to ensure field force agility. Product managers merely have to tweak marketing messages to stay complaint per the regulators most recent update and the entire salesforce gets the necessary update to stay refreshed and remain complaint on the ground.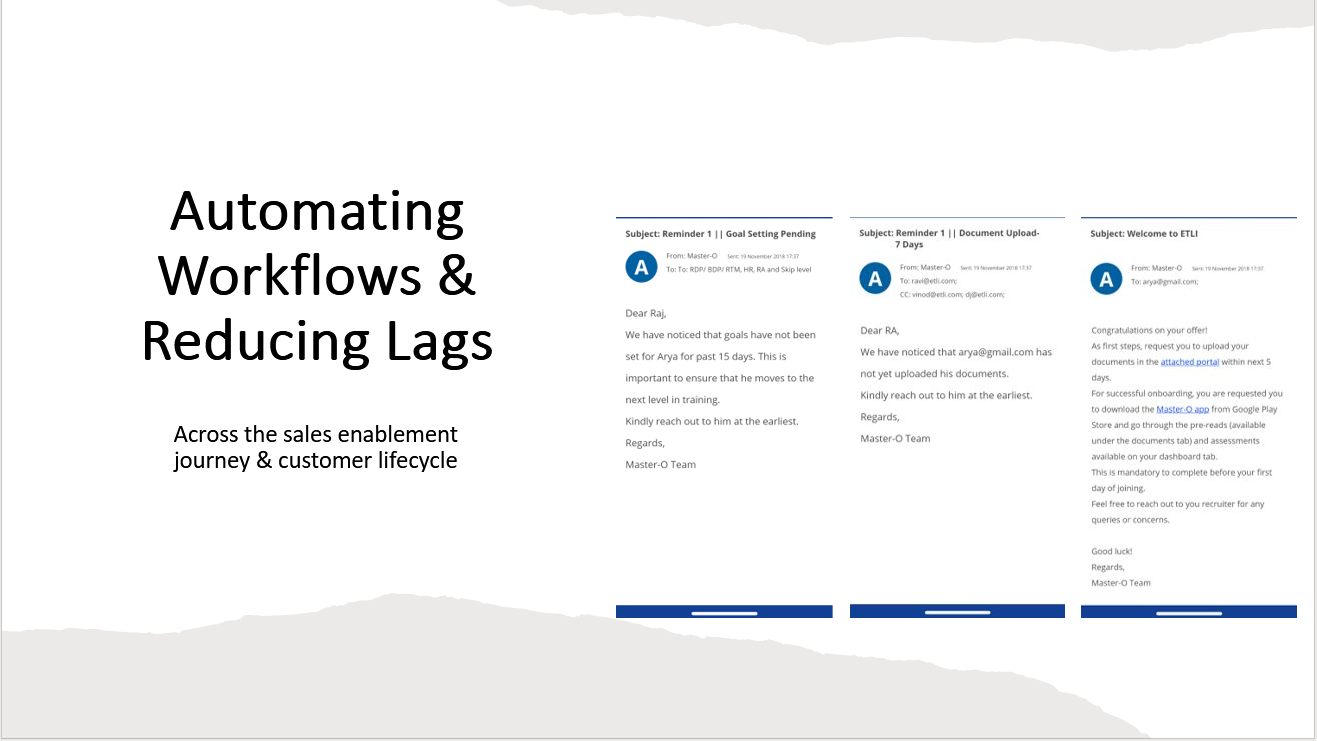 Similarly, sending automated mails can result in reduced manual errors making the process prompter and more efficient and time-saving as well.
•       Reduce administration of learning by 60%
•       Create / launch new learning 70% faster
Case In Point: Automation Of Systems For A 7,000 Strong Life Insurance Company In Asia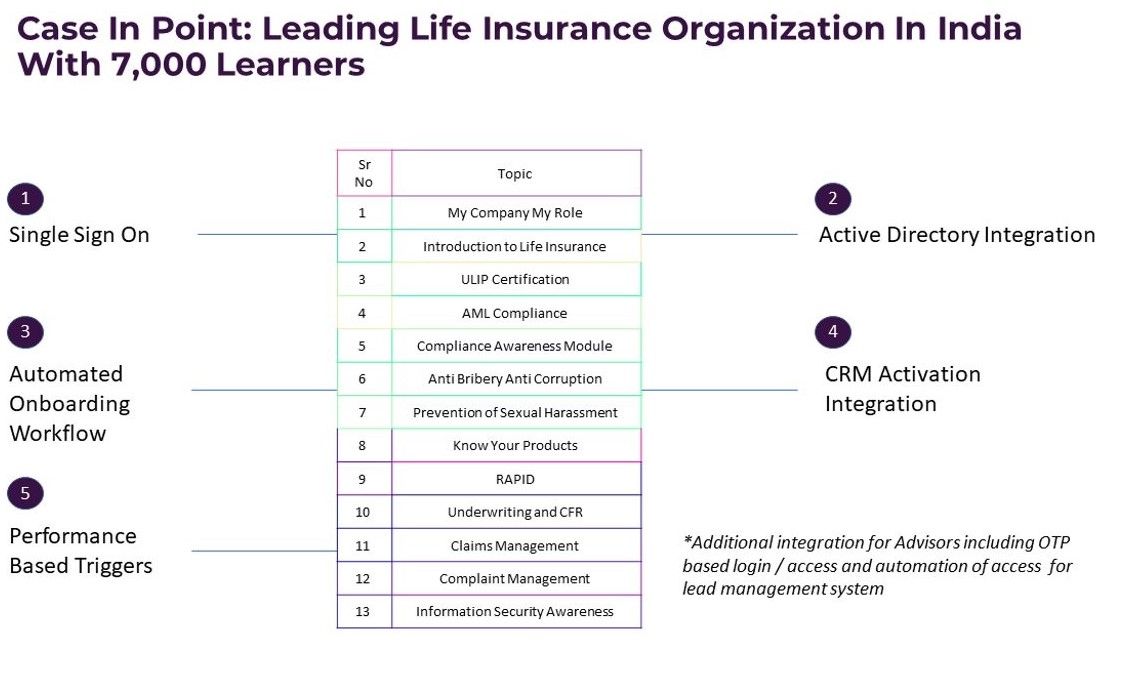 2.      Integration with existing systems for contextual & personalized enablement
Digitizing the end-to-end journey of the frontline sales across distribution channels will streamline onboarding and further enablement of the field force. Integrating sales enablement across the HRMS, PMS , Lead Management and CRM systems will present contextual experiences to the front line. As consumers of hyper personalized information, the front line teams will in turn become better adept at personalizing sales messages to end consumers, thereby increasing conversion rates & win rates. Imagine pushing customized content while enabling front line sales & insurance advisors based on their ability or inability to achieve monthly KPIs or pushing contextual product or selling skills content based on the customer's journey in the sales cycle. These integrated workflows with the PMS and CRM respectively can ensure proactive and reactive interventions to the front line who's acceptance to viewing the content would be at least 50% to 80% higher than providing a fixed & sequential learning journey.
Creating Automation Through Deep Integration With HR, Marketing & Sales Systems

​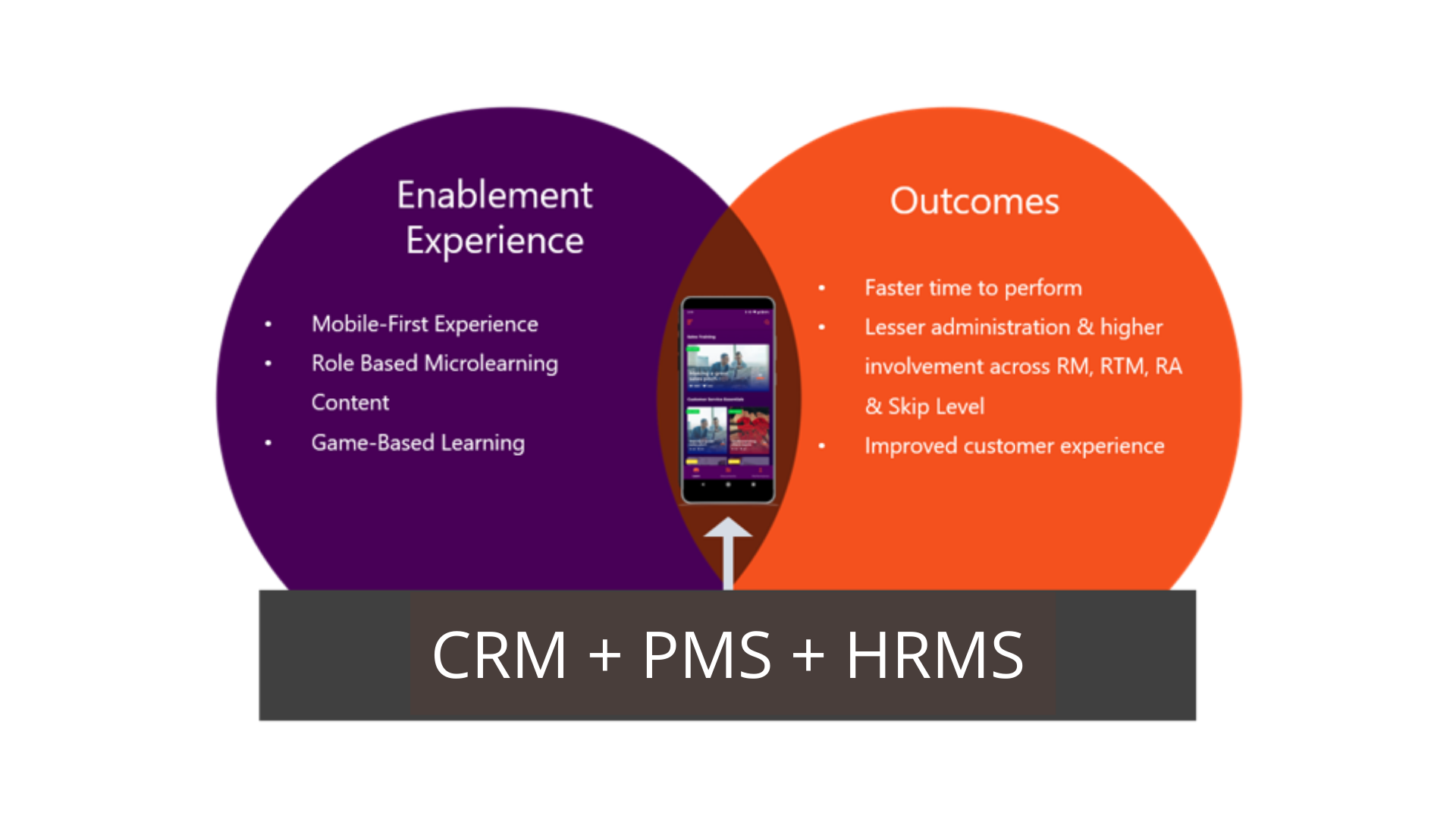 Mapping KPIs with content from product managers, marketing teams as well as the sales training team will ensure front line sales executives engage with and refer to the right content based on their performance for the month and more importantly based on the customer's journey in his or hey buying cycle.
Mapping KPI & Lead Indicators With Courses To Trigger Need Based Learning Paths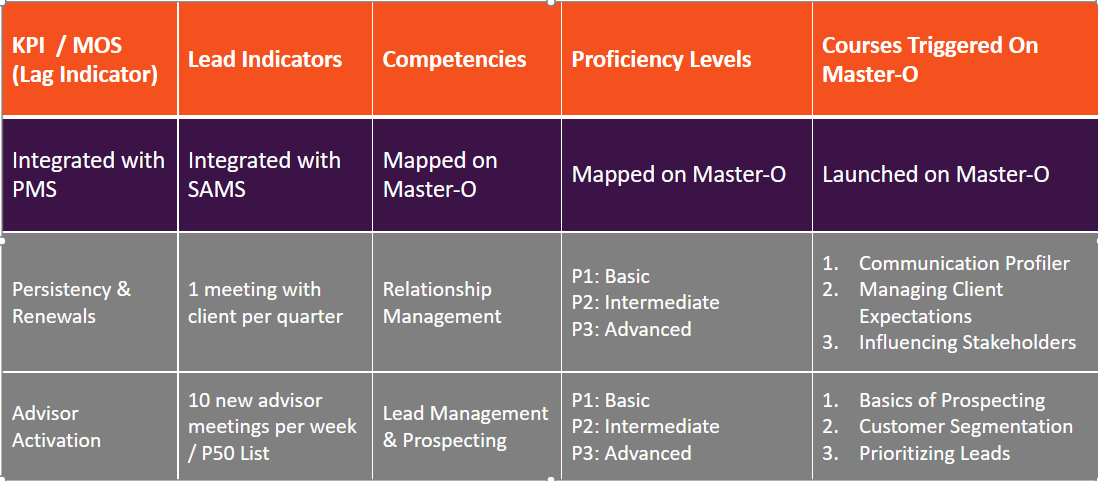 Per the above illustration, KPIs could be mapped from the PMS to create unique need-based learning journeys for each frontline sales rep.
Intelligent process-led integrations can result in:
•       Better linkage between proactive learners & high performers by up to 80%
•       Enhance sales productivity by reducing downtime
1.       Investing in blended learning & omni-channel sales enablement
Training plays a pivotal role in life insurance companies. Frontline sales executives & insurance advisors are continuously being trained on new and existing products, selling processes, risk management, among many other skills. On top of that, with experienced sales executives retiring, leaders across distribution channels are always under pressure for upskilling new hire sales executives and advisors as efficiently as possible.
In such a scenario, designing a blended sales training & enablement journey that includes virtual classroom sessions along with self-paced learning and assessment modules could result in 80% or higher engagement and up to 90% less cost.
Virtual classroom training followed by microlearning modules and assessments can result in significant reduction in training costs as sales trainers can generate performance insights and plan for future training events more proactively and through the use of data analytics.
As part of the digital transformation currently underway in the industry, key sales processes have become more technology-oriented. Consequently, sales enablement leaders should look at upskilling frontline sales teams by enabling them to virtually rehearse the right pitch and demonstrate how they would close more deals. With less time at hand and sales reps spread across various geographies, a centrally launched online workflow can ensure unified learning among all sales reps.
Along with this, it is equally important to continuously update sales reps about the newst policies & schemes. Microlearning ensures fast learning in such situations, without disrupting the day-to-day sales operations of the front line. Game-based assessments plugged in these modules enhance the front line teams' ability to think on their feet and identify cross-sell and up-sell opportunities.
Furthermore, game-based learning & microlearning encourage tiny habits that occur repeatedly during the sales rep's downtime, thereby generating more data driven insights into the speed of ramp up, time for readiness and more importantly linkage to business outcomes as illustrated below.
What Is the Knowledge Graph Or Learning Agility Of The Salesforce?​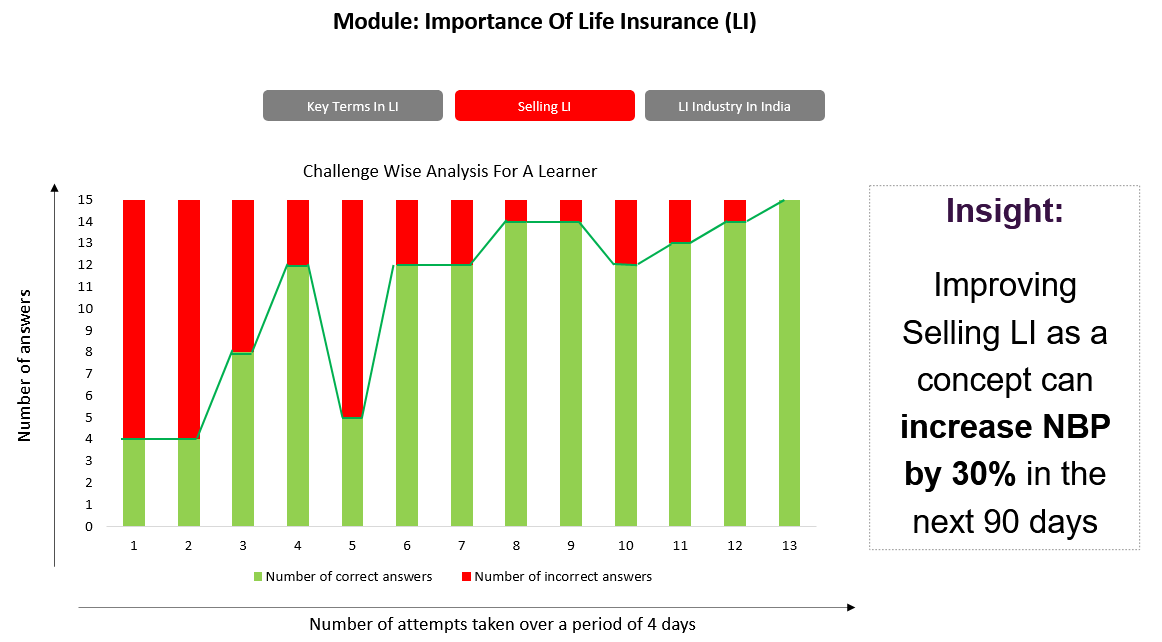 4.       Building novel engagement experiences that augment customer conversations
Enabling customer-facing employees to provide faster and comprehensive services to clients, distributors and partners is vital to generate greater market share and a healthy growth across the insurer's product portfolio.
Along with an increase in client queries, the insurer's client relations with distributors- agents, brokers, and financial advisors also faced disruptions. In order to manage such overload, one of the primary requirements was to equip customer-facing employees with prompt, engaging and comprehensive solutions.
Insurance companies have identified that customer facing executives should not only be equipped with updated and relevant content throughout the customer engagement cycle, but the content itself should augment the quality of customer interactions and build greater trust with the customer, irrespective of the mode of interaction.
Much like building game-based assessment can generate greater engagement and repeatability in front line sales executives, gamification & game mechanics can deepen the level and frequency of engagement with customers. Marketers should expect sales enablement platforms to publish repackaged collaterals in the form of hyper casual games that can be easily distributed to their customer base as well as made easy for referrals from the customers who engage with content in this manner.
Armed with the same level of detail and insights through game based assessments, insurance advisors and front line sales teams would have more contextual information on how the consumer engaged with this content, not only in terms of open and click rates, but also in terms of referrals, social likes, repeated use and level of product understanding, among other things.
Hyper Casual Game-Based Engagement That Are Content-Agnostic & Increase Customer Engagement By More Than 80%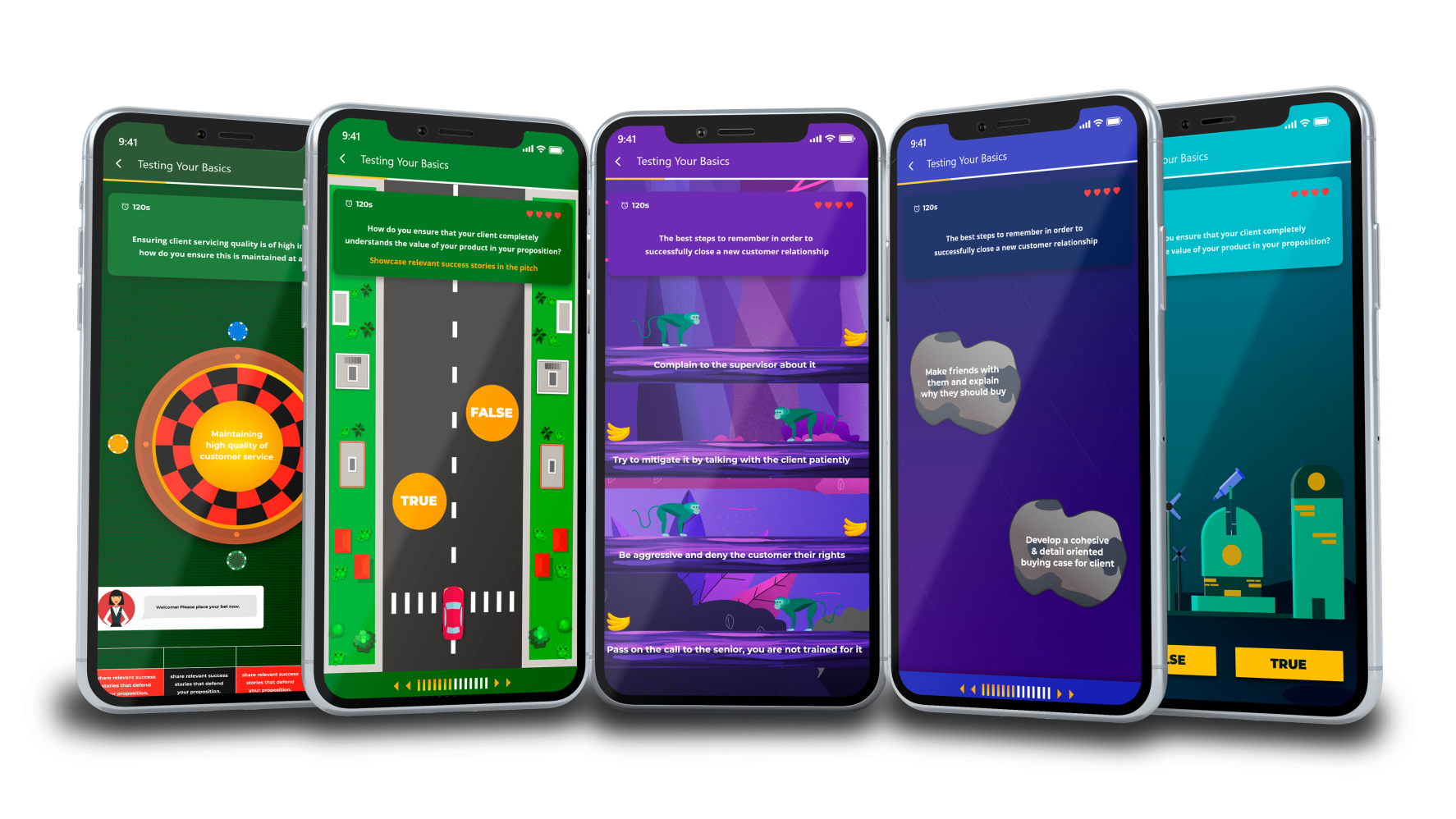 As the pace of change accelerates in the life insurance industry, sales enablement teams have to identify & prioritize how these for enablement will impact the outcomes for the front line and their level of preparedness to leverage such approaches in the near to mid term.
Regardless of which approach they choose, there's no denying that the underlying trends of deeper engagement, action based data and faster speed to market are essential in gaining traction & boosting revenue as well as customer lifetime value.
Learn More
Get our latest Sales Enablement eBook to discover how life insurance, retail banks and companies across industries are enabling & upskilling their frontline teams in 2021.
About Master-O
Master-O provides an all-in-one sales enablement platform that ensures sellers have the skills, knowledge, and content they need to optimize team success in a virtual world. In place of traditional training and content enablement tactics – which are rapidly outdated and often ineffective – Master-O empowers reps with the activated content they need to close deals faster, and the personalized coaching and learning they require for continuous improvement. Nearly 250,000 sales executives leverage Master-O to revolutionize the way they onboard, train, collaborate, and sell.
To learn more about Master-O and learning and enablement in the flow of work, please visit masteroapp.com or schedule a demo to discover how Master-O can redefine sales enablement for your organization.