Talent management is how organisations develop a productive workforce that is likely to stay in the organisation for a long term. It encompasses a host of development opportunities led by assessment strategies which enables organisations to retain, grow and nurture the talent.  
In today's highly competitive and dynamic environment, it has become pertinent to reinvent talent assessment design to not only better address organisational objectives but also make the entire process more engaging & effortless to drive. Millennials and Gen Z are influencing the way organisations evolve their existing talent assessment & talent management initiatives, especially at the front line executive level. Their technical proficiency, lifestyle choices, career decisions are making a huge impact on how organisations upskill, engage & enable this section of the workforce.
Traditional talent assessment methods which include leveraging LMS platform to roll-out assessments are not considered as effective anymore. The effectiveness is affected by platform fatigue due to the following reasons:
Several trainings have to be completed within a stipulated time,
Relevancy of the program to the frontline executive's work priorities do not often match,
The need to complete the assessments at the desk and
The long duration of the training and assessment programs
Business success for more talent assessment & frontline readiness initiatives is measured by how fast an organisation is able to understand the changing environment and realign itself to align its programs.
In the past few years, there has been an increased adoption of mobile-first, bite-sized microlearningand game-based platforms which meet the expectations of the frontline teams and also enable the organisations to improve the overall productivity.  
Let Us Understand How Organisations Are Leveraging Gamification And Microlearning For Talent Assessment And Segmentation:
Case in point is an example of how a leading Indian Retail Bank partnered with Master-O's microlearning platform to implement game-based assessments for the design, execution and reporting of their talent assessment and segmentation program for over 22,000 frontline executives.
The key highlight of the assessment program was the game-based assessments & gamification design of the initiative, which was conceptualized using a mobile-first approach. Through Master-O's microlearning platform, the Bank was able to ensure engaging and effective learning & assessment content around 8 identified competencies and 120 sub skills.
The mobile platform digital assessment initiative ensured scalability to over 22,000 frontline executives that drove 90% completion within just 4 weeks – a 50% reduction in time to completion compared to the bank's earlier, traditional online assessment approach. Using game-based assessments on mobile, the Bank was able to get insights at not just a channel level but also at an individual level and understand the skill gaps at a more microscopic level.  
Integrating the assessment in the frontline executives' daily life using a mobile gamification platform enriched the overall assessment & learning experience.
The Bank realized its frontline executives across business channels were seeking high-quality information and learning experience in a more accessible & engaging format that could be easily & habitually consumed within their daily downtime.
The game-based assessment methodology also allowed the Bank to:
Generate more than 10 million data points about the frontline executives owing to the repeat attempts a frontline executive could take to either complete the game and/or achieve the highest score possible in the game-based assessment
Improve the engagement experience as the frontline executives felt completely at ease completing the gamified assessments on its merit without worrying about the consequences of selecting the incorrect answers or not knowing the correct response
Condition the cognitive load of the frontline executives on the following skills, based on the assessments' game mechanics:
Multi-tasking
Situation judgement
Decision making & risk taking
Focus &
Comprehension
The Gamified Platform Via A Mobile-Based Learning Application Had The Following Advantages:  
1.      Quick Launch Time & Scalability
More than 50 assessments across 120 sub skills were created in less than 3 days over 24-man hours.  This also included ~2-3 hours walk through sessions on the platform's content authoring tool and for validating data, creating users, and administering the launches. The Bank launched the assessment and generated 90%+ completion rate in just 5 weeks for over 22,000 frontline executives. Mobile-based assessment platform enabled the Bank to not only reach 20,000+ frontline executives but also engage them with an interactive platform with no downtimes or app crashes.
2.      User Friendliness
The interactive platform was designed for the frontline employees in the age group 20-50 who are adept in the usage of smartphones. Gamification made the assessment experience feel more like a learning opportunity that was convenient, repetitive, and quick.
The assessment construct was customized and flexible in design. Each interactive microlearning was further strengthened with game-based assessments which delivered higher engagement and adoption of the assessments. This resulted in habitual enablement that seamlessly fitted within a participant's busy schedule and improved retention and learning effectiveness.
3.      Ease of Use
As a mobile first experience, game-based assessments on Master-O were intuitive and ensured seamless adoption. It alleviated the anxiety that is associated with traditional assessments.
'Smart' nudges using behavioral psychology and intuitive user interface enhanced frontline executives' adoption and sustained engagement throughout. Ongoing frontline engagement and repeatability which drives a culture of learning and assessment without high administrative follow up.
4.      Assessment Approach
The mobile based approach fit well with the Bank's Advanced Functionality objective. Use of game-based assessments were considered superior to traditional assessments as they:
Improved the cognitive skills of the frontline executives
Drove higher adoption 50% faster, due to the design of the assessment in game form
Generated 10 million data points which helped in further analysis and development of plan for improvement in productivity
5.      Reporting of Assessments
The assessment solution enabled the Bank to obtain several data points and segment talent at not just an individual level but also at a branch / cluster / channel / managerial level.
The assessments and reporting were based on a robust outcomes-based framework – 3E (Effectiveness, Engagement, Evolution) - which helped the Bank's leaders / managers to understand their frontline teams' behavior.
The comprehensive data-driven dashboards provided support not only in tracking completion but also helped in driving healthy competition to achieve 100% completion and motivate mastery of skills. Each location had its own separate dashboard to see analytics across various fields for each participant.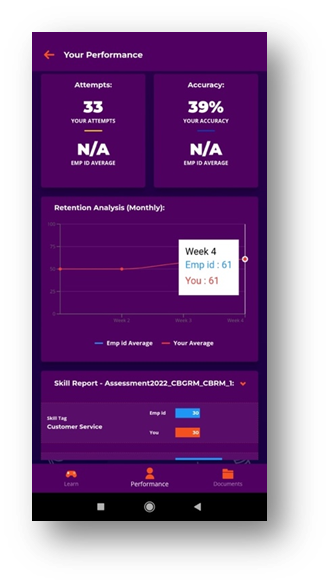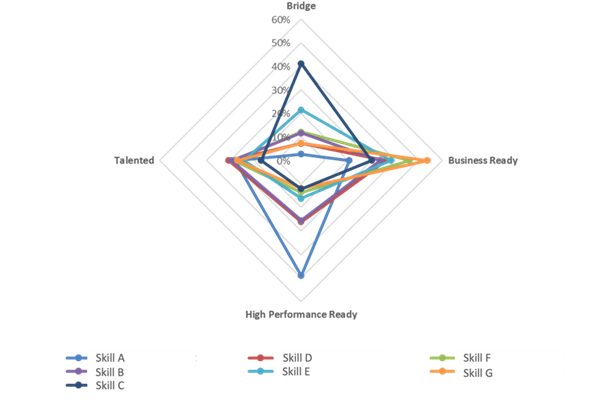 Use of game-based assessments were considered superior to traditional assessments:
It offered more variety than traditional assessments
Game-based assessments on digital devices can check for competence or skill while also improving the cognitive skills for the frontline person based on the game mechanics of the assessment
It ensured higher adoption as the game felt less threatening than a traditional assessment, fit the frontline executives' downtime schedule and closely resembled what frontline teams typically would do during their downtime / free time – play hyper casual games or psychologically switch off
The Bank's L&D team was certified on Microskills® so they knew how best to leverage game-based assessments and make it a repeatable assessment process
The Bank was also able to view insights across business channels, segregate talent based on their competencies, areas of development, et al. Lastly, by segregating its talent, the leadership team and mid managers could better identify the right approach to upskilling, engaging & managing their talent at the frontline.
Owing to the success and fast adoption rate of the gamified assessment platform, the Bank planned to expand the assessment approach going forward by conducting the assessments twice a year, design more personalized learning pathways for individual frontline executives and look at deeper insights such as movement in the competencies pre and post the development journey.
About Master-O:
Master-O, a frontline sales readiness platform, has aided several sales enablement & frontline readiness programs for enterprise customers and has been a key driver of sales strategies for many industry leaders. To make the learning experience more personalized, Master-O helps sales managers tap into various data points and analytics for coaching & upskilling their team. This gives sales leaders and managers much-required objective perspective to reimagine their coaching approach and realign it with performance metrics.
To learn more about Master-O, please visit masteroapp.com or schedule a demo to discover how Master-O can redefine sales readiness & frontline capability development for your organization.