About The Company
The pharma company is a global health care firm that delivers innovative health solutions through its prescription medicines, vaccines, biological therapies, and animal health products. It is a premier research-intensive biopharmaceutical company which operates with the purpose of leveraging the power of leading-edge science to save and improve lives around the world. The company has over 68,000 employees spread across the world including The Americas, Europe, Asia Pacific and Middle East and Africa.
The Challenge
In the past, poor learning adoption of less than 60% meant the sales training & readiness team had to manually drive sales training initiatives that resulted in huge management bandwidth.  
As a result, the Company was exploring for a partner to drive frontline readiness across different zones in India. At the same time, the Company envisioned to create a sales readiness culture by delivering engaging microlearning content to propel self-driven learning among its frontline sales teams.  
The Solution
To address this, the Company partnered with Master-O and adopted gamified tournaments to drive frontline readiness among its sales executives.
The basic premise behind adopting a live gamified tournament approach was to leverage behavioral psychology among the zonal sales leaders and nudge them to influence their respective sales teams. By leveraging zonal sales leaderboards that pitted each zone with one another across multiple sales metrics, zonal managers stirred a healthy competitive drive within their teams that generated self-driven momentum among frontline executives to build a daily sales readiness habit. 1
The spirit of competition made individual sales reps regularly outperform each other which, in turn boosted their retention of selling skills & product knowledge and ultimately their confidence to effectively converse with healthcare professionals.
Leveraging sales gamification with blended learning and guided by its learning partner Master-O, the Company decided to roll out interzonal-tournaments to make executives 'sales ready' and encourage them to adopt self-driven microlearning & sales readiness.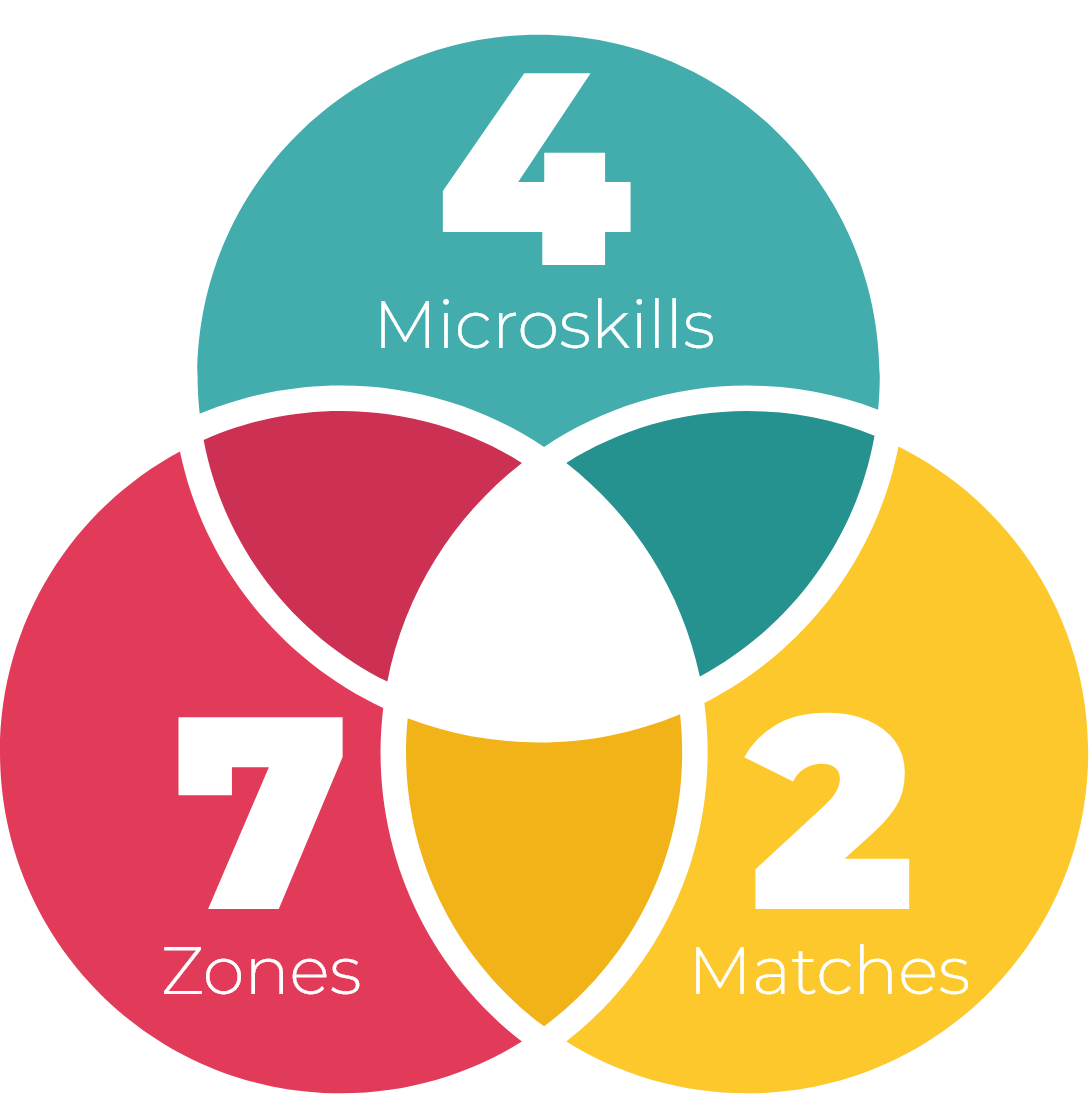 The Implementation
The tournament was launched across 7 zones in 2 phases. In Phase 1, 2 Microskills® or microlearning modules were launched across 338 frontline sales reps. In Phase 2, 2 additional Microskills were launched.
The entire tournament was efficiently executed and observations were tracked and analysed for every zone. There were unified efforts to improve adoption rate using daily & scheduled push notifications, teasers, zonal leaderboards and dashboards.
A 'Winner Zone' was maintained throughout the sales gamified tournament, where it was mandatory to have an average completion rate of 90% for each Microskill. Zonal winners were decided based on the completion rate across all 4 Microskills and the average final scores across all Microskills.
Key metrices that were tracked and analysed throughout the gamified tournament included:
Adoption rates
Engagement rate
Time spent and
Skill level & precision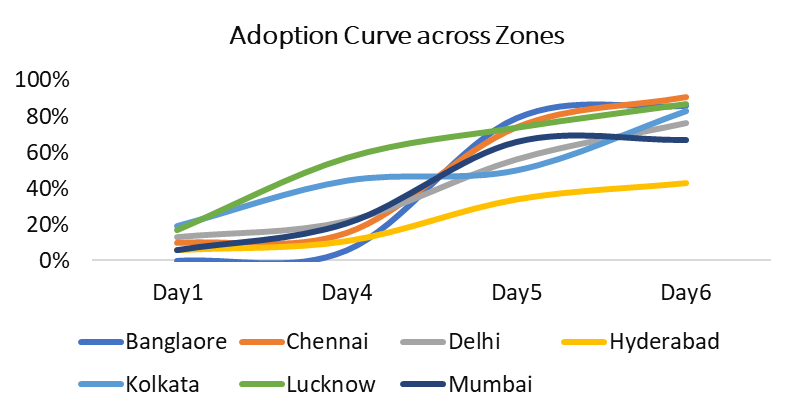 Analyses were made even at the Microskill level, such as comparisons between sales reps based on attempts made to complete a Microskill vs post completion attempts, average minutes spent per Microskill, easiest vs difficult Microskills and accuracy percentages for different Microskills.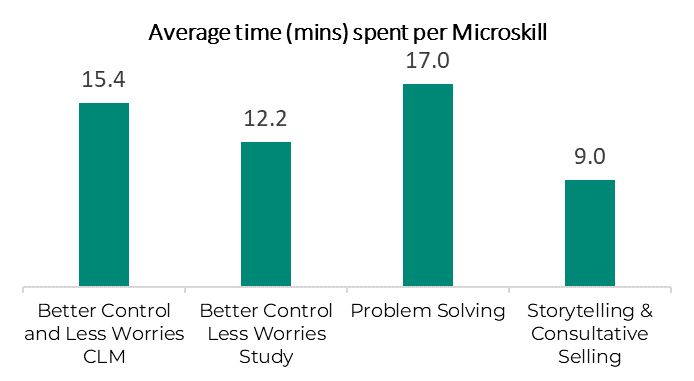 Outcomes
The gamified sales tournament was extremely well received by the entire sales organization and generated huge momentum across the salesforce. Some of the key outcomes achieved included:
90% overall completion rate and above average post completion attempts in ~56% of the frontline sales executives
97% adoption rate across all zones. 45% of the frontline sales executives completed the Match 2 Microskills within first 5 days which indicated an acceptance of the gamified approach
Positive user feedback >4.5 out of 5 across zones
285 microlearning hours were spent during the matches with an high engagement score in ~88% of the frontline sales executives
Post the  tournament, the sales leadership was able to generate a detailed Skill Gap analysis Report wherein 3 skill gaps were identified. Focus areas related to products and behavior were identified and the proposed actions for each sales rep or region were chalked out.
An Action matrix was designed based on Skill score and Will (Post Completion Attempts) and each zone was part of one of the 4 quadrants:

The report also identified zones that exhibited a higher propensity to sales readiness than others.
The Table below captures the key tournament outcomes and inferences along with the suggested proposed action:
| | |
| --- | --- |
| Tournament Outcome & Inference | Proposed Action |
| Focus Area – Product | Product refreshers to be shared through digital campaigns & daily microlearning challenges |
| Focus Area – Behaviour | Schedule periodic instructor led trainings on selling skills & customer interactions |
| Highest attempts post completion | Schedule a feedback survey to identify skill requirements per sales rep to drive personalized sales readiness |
| Strong Learning & Sales Readiness Culture | Drive digital capability programs in these zones, led directly by sales managers |
| Weak Performing Zones | Drive mandatory capability programs using a blended learning approach in select zones |
Way Forward
The sales gamification tournament approach was hugely successful and was well received by the Company.
As per a Senior Manager Learning & Development at the Company  "Proactive approach in providing creative inputs made the execution perfect". He further said that "the Master-O execution was always on time & on point sending in-app notifications, teasers and providing regular learning analytics".
The successful rollout of sales tournaments has paved the way for sustaining the momentum through quarterly contests in the future. To address the focus areas, it is deemed important to share monthly content and assessments that would encourage frontline sales executives to keep track of their progress.  As organizations extract more productivity out of frontline sales reps, leveraging gamified sales tournaments as evidenced by the Pharma Company provide a great way to generate momentum, build capability & boost engagement to maximize results from front line sales reps, even during periods of high pressure sales activities.