Insurance is evolving and growing with customers realising the importance and need for insurance, especially at the start of 2020. In this growing digital-age and a highly regulated market, insurers must also adapt to this. While many aspects are changing, insurance companies also need upgrade their frontline readiness strategy.
While positively influencing the health insurance, the pandemic has given rise to the challenge of channel overload. There is a sudden increase in customer queries related to travel insurance, critical illness, business interruption, health cover, etc. Covid-19 has also disrupted an insurer's client service, starting with its distributors-agents, brokers, and financial advisors. With work from home becoming the norm across the world, face-to-face interactions have gone down significantly, limiting the use of influential sales and marketing techniques that were leveraged in physical interactions. Under these circumstances, insurance companies should focus on investing in the capabilities of their salesforce to enable faster and more comprehensive services in the insurer-distribution partner-client chain.
Insurers need to make sure that not just current employees but also new hires are continuously engaged. Use of effective digital platforms like microlearning and gamification can enable and prepare teams to enhance their customer conversations, launch products faster and tackle competition. There is a frontline readiness crisis due to traditional sales enablement programs which focus on completion rather than knowledge & skill building.
Applying game-based elements in digital application can improve skill mastery and ensure retention of knowledge. Gamified microlearning also offers additional advantages such as:
·         Training employees in different branches and geographies on a single platform,
·         Self-paced microlearning courses
·         Tracking the progress and measuring effectiveness
·         Identifying skill gaps and designing learning interventions
1.     New Hire Onboarding & Culture Immersion
As insurance companies hire new advisors, it is imperative to train them on certain behavioural skills such as customer service skills, advisory skills and immerse them in the company culture for a smooth onboarding process. Gamification can make the onboarding journey interactive and exciting for newly onboarded advisors as well as new hire frontline sales teams. Microlearning can deliver bite-sized content of the company's core business strategy and product training (product basics and fundamentals) which can help in higher retention levels and faster go-to-market.
A leading insurance firm adopted Master-O®'s microlearning platform by integrating it with their existing CRM, PMS & HRMS systems to automate learning pathways & reduce administrative workloads for trainers and managers. The platform provided a digital and engaging gamified learning and enablement experience which reduced the administration time and cost, minimising deviations to maximise productivity.
2.     Compliance Training & Certification
Complying with new regulatory requirements and developments in existing laws is crucial for insurance advisors. Microlearning platforms can manage training schedules and remind advisors & employees of upcoming trainings to be completed. Use of game-based elements such points, badges, leadership boards can kindle competitive spirit within the team for completing these trainings. Rewards points can increase their efficiency and create a sense of achievement.
3.     Competitor Intelligence And Updates
Agents should be enabled with the right insights and capabilities to generate referrals. They should be equipped with updated and relevant content throughout the customer engagement cycle to be able to suggest products as per the customer's needs and resolve any objection or query that may arise. Gamified microlearning content like Microskills®can bring insurance advisors up to date with changing market scenarios and competition. Smart nudges through real-time updates and notifications, multiple attempts bring consistency in efforts and ensure on time completion of learning or any other relevant and timely knowledge transfer. Data-led insights link frontline readiness with business impact. It is an area of 'Seller Be Aware' as the advisors need to be trained on the licenses, domain knowledge, product knowledge and their unique selling proposition.
4.     New Product Or Process Launch
Insurance companies launch a host of new products, be it new policies or expanding their existing policy guidelines, regularly to address the evolving customer needs. Regular in-person or classroom trainings have their own logistical challenges and may lead to fatigue, loss of productivity & even disengagement. Converting the traditional product collaterals to game-based assessments can motivate the sales team to complete & repeat the trainings on time and without any administrative follow up. In-depth reporting and performance dashboards enable the sales team to understand their strength and development areas. Leveraging data science and behavioural psychology for notifications and nudges can drive frontline engagement and motivation. Managers can understand their team's competency and design focused interventions for faster and effective product readiness of the team.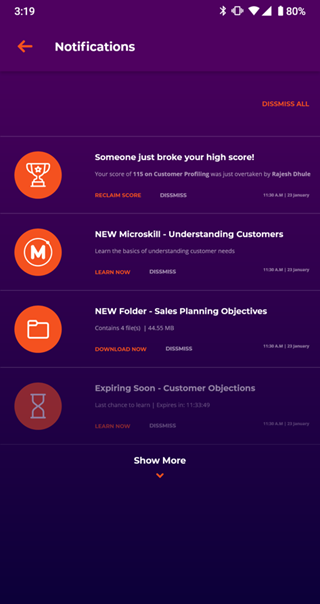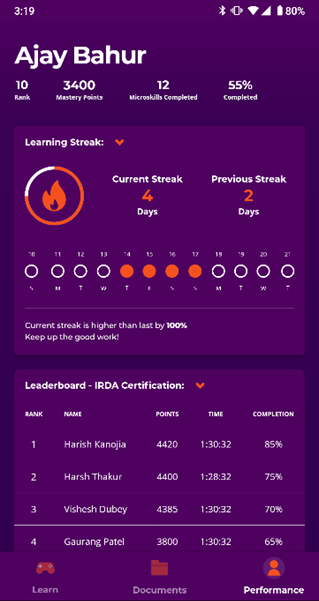 5.     Upskilling And Reskilling Current Advisors
Daily tasks for the insurance advisors can be repetitive, boring and unfulfilling. Gamification and microlearning can make it interesting for the advisors with game-like features. Rewarding the teams for tasks such as on-time entry of sales data can be a great way to amplify the workflow experience as well as signify the important daily habits in frontline sales teams and advisors. This eventually leads to improved productivity, faster customer conversions and up-sell of products.
A blended learning journey which provides regular training to the advisors on selling skills, rapport building, on time collection of documents from customers, processes training is needed in this highly competitive industry. Gamification and microlearning differentiate the company's offering to the employees. Today a salesperson has multiple job offers on hand & such a differentiated approach to training & sales readiness can significantly reduce frontline attrition.
A continuous learning process using microlearning with scenario demonstrations based on analytical 'what-if' assessments; interactive videos and a gamification element to create a learning culture could go a long way in enhancing the insurance company's brand.
Providing the employees opportunities to learn new skills and develop their career can also help in retaining talent. A McKinsey study shows that 'Replacing an employee can cost more than 100 percent of the role's annual salary while successful reskilling can cost less than 10 percent of a role's salary.'
As the pace of change accelerates in the life insurance industry, sales enablement teams have to identify & prioritize how these sales enablement approaches will impact the outcomes for the front line and their level of preparedness to leverage such approaches in the near to mid-term. Regardless of which approach they choose, there's no denying that the underlying trends of deeper engagement, action based data and faster speed to market are essential in gaining traction & boosting revenue as well as customer lifetime value.
About Master-O®:
Master-O®, a frontline sales readiness platform, has aided several sales enablement & frontline readiness programs for enterprise customers and has been a key driver of sales strategies for many industry leaders. To make the learning experience more personalized, Master-O helps sales managers tap into various data points and analytics for coaching & upskilling their team. This gives sales leaders and managers much-required objective perspective to reimagine their coaching approach and realign it with performance metrics.
To learn more about Master-O, please visit masteroapp.com or schedule a demo to discover how Master-O can redefine sales readiness & frontline capability development for your organization.