Microlearning has become a game-changer to boost the productivity of frontline teams. Traditional training methods do not always deliver the best results as training programs are often expensive and time consuming. Classroom or virtual training also do not address some of today's toughest training challenges such as engaging a remote workforce or training teams that are distributed across different locations.
Mobile-first, bite-sized microlearning platforms enjoy a wide appeal among today's generation of millennials and Gen-Z and more importantly, offers a better return on investment (ROI) for organizations who are looking to boost frontline sales productivity.
Here are five ways how microlearning can deliver stronger ROI for your organization.
1.     Engage and empower the sales teams
Microlearning has transformed the personalized learning path for frontline teams at organizations by giving the sales teams access to specific information just prior to the moment of application. Microskills® by Master-O, for example enables traditional PowerPoint content to be repackaged into a more engaging and effective microlearning format that result in up to 10 times more engagement or repeatable viewership by sales teams.
Microlearning content can be developed in diverse formats such as game-based assessments, flashcards, two-minute videos with interactions, et al. Microlearning gives an organization increased control and the opportunity to create a personalized and adaptable development method to match individual learning styles & preferences.
Unlike traditional sales enablement where the manager tells sales teams the skills & sales competencies they need to improve, platforms like Master-O provide deep analytical insights to business leaders to understand skill gaps and recommend the right microlearning content for each sales rep. When sales teams are given access to bite-sized content at their fingertips that suits their learning style, engagement and retention of knowledge can increase by up to 300%.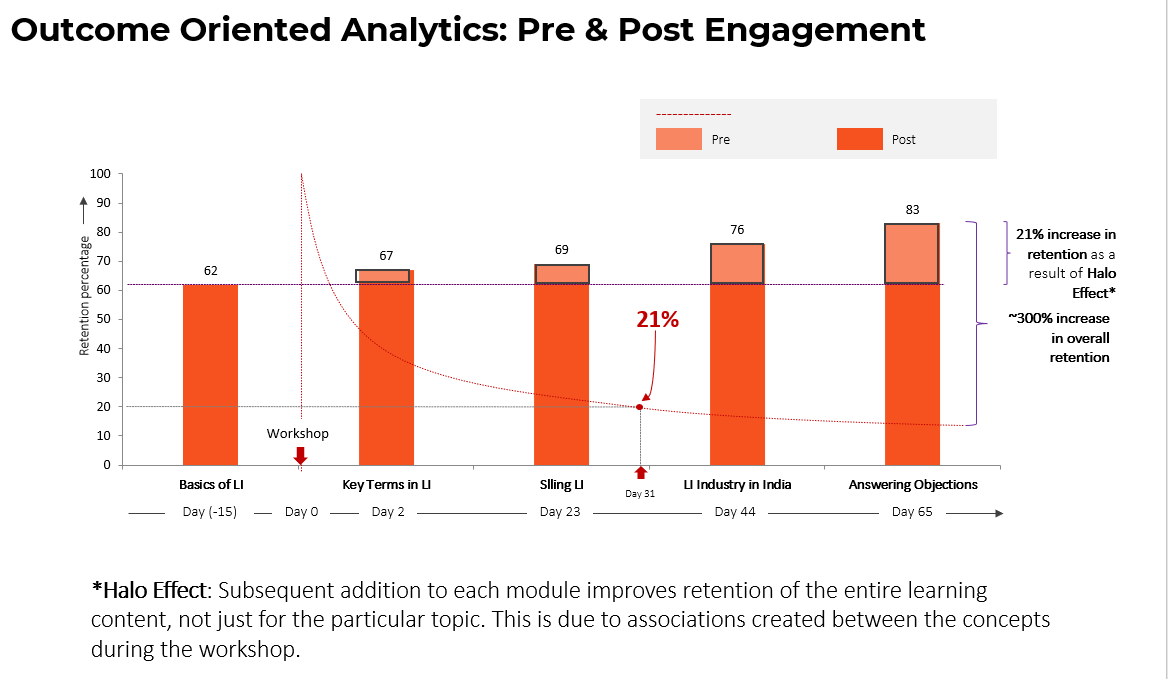 2.  Increased Skill Development Speed for The Sales Teams
Another way to boost your organization's ROI through Microlearning is by increasing the speed of employee development. Using microlearning, business leaders can improve and develop their salesforce on demand and more frequently. Sales Readiness for frontline teams is an ongoing process that involves identifying the behaviours that need improvement. Also, it includes training sales teams regularly to improve and acquire new skills & stay ahead of the curve when it comes to product knowledge, competitor knowhow and market dynamics. Using microlearning, you can deliver sales training programs to your salesforce through customized training to meet their specific needs. Sales teams can access training in multiple formats that suit them & are more contextual to what they need based on each customer interaction.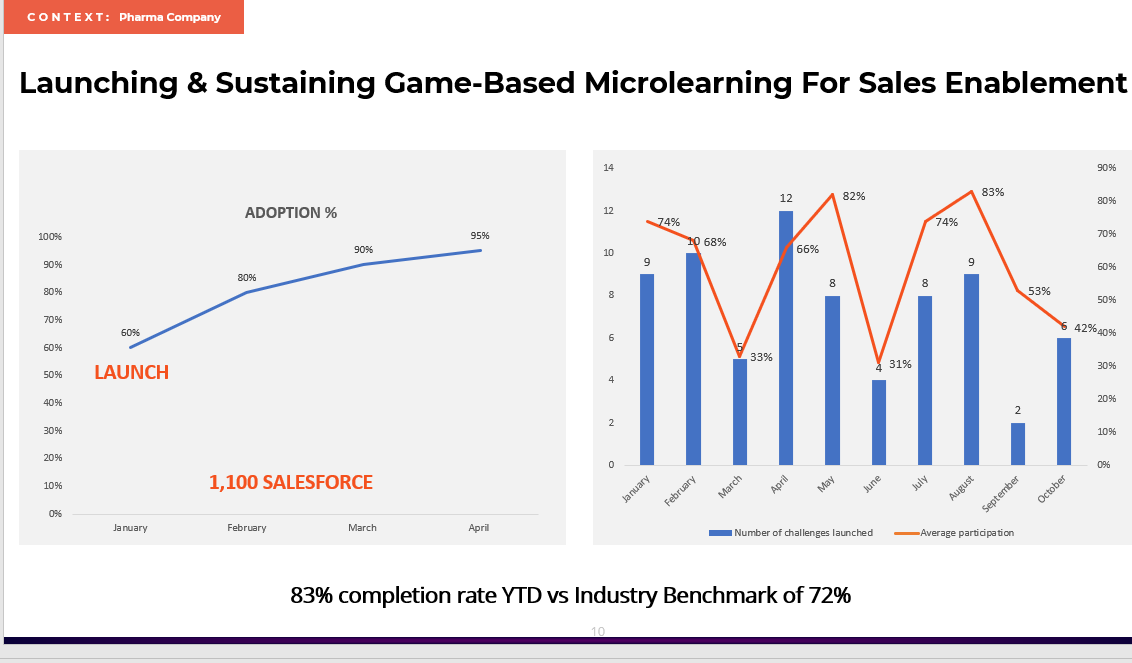 3.      Reduced Operational Cost
Microlearning strategies often go well with traditional training to drastically reduce new hire sales onboarding and attrition. Unlike traditional classroom training, microlearning requires less investment of time. That's because microlearning content focuses on delivering short and precise content in a repetitive yet spaced approach, while being quicker and cheaper to develop. It can help save time and accelerate Go to market for Product Managers, Marketers and L&D Teams who are looking to constantly engage & upskill the field force in the shortest, yet most effective manner possible.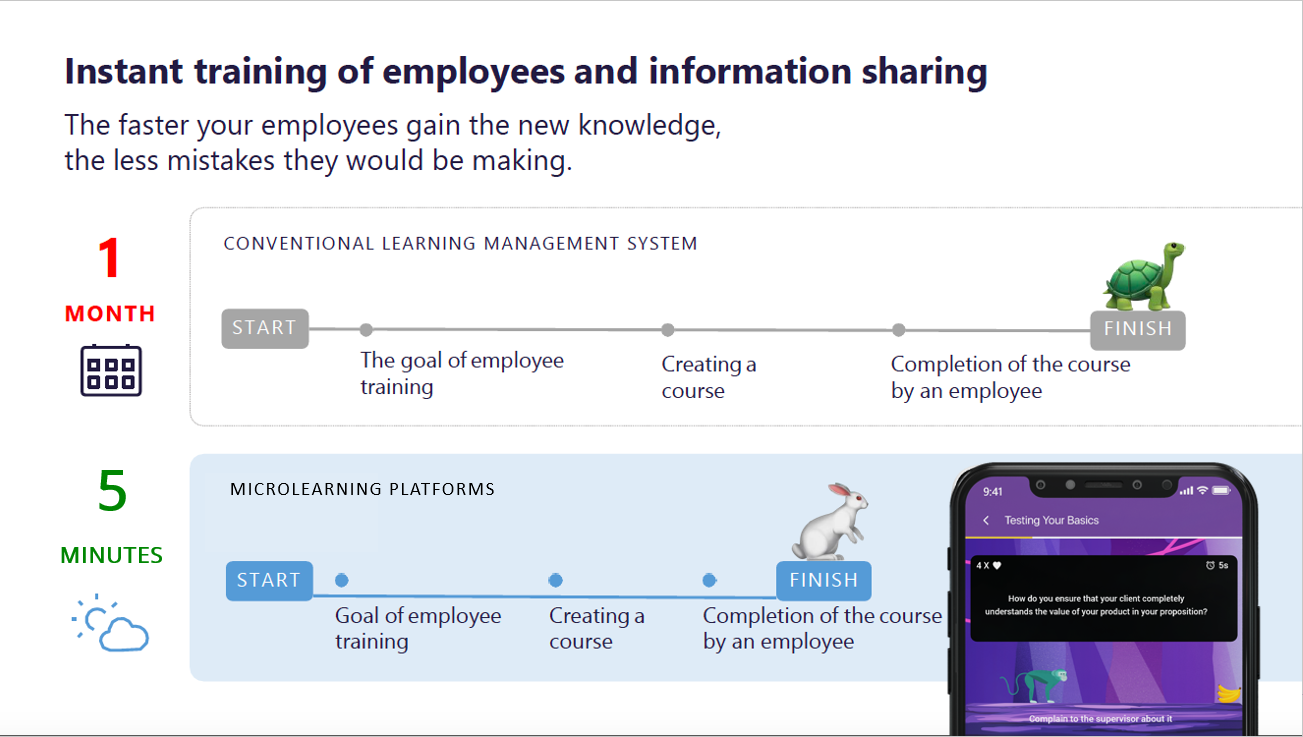 3.    Enhanced Customer Experience
What do your sales representatives do when they are 5 minutes away from a client meeting?
Do they know how they are going to pitch and close the deal & are they likely to invest their downtime to upskill and better prepare themselves for client interactions?
A quick 5-minute refresher before stepping into the room might enable them to clinch the deal.
Microlearning can improve training outcomes both for sales leaders and sales teams. Microlearning modules can be easily accessed by sales representatives on their mobile devices anywhere and at any time, based on their convenience. This results in higher completion rates and improves the quality of customer conversations as sales reps become better prepared during their downtime, prior to the start of the customer interaction. Moreover, the facility to personalize training motivates sales teams not only complete, but repeat the training, master critical skills and ultimately improve performance.
4.      Beat The Forgetting Curve In A Fun Way
If you've heard of Herman Ebbinghaus's forgetting curve, you would know that almost 80% of newly learned knowledge is forgotten within a month after training, without reinforcement of the learning. And in a couple of months after the training, you'd be lucky if your sales teams remember even 10% of what they were taught. That makes reinforcement of training an important part of the sales readiness & training approach, without which your entire investment might not yield powerful results. Microlearning modules can be used very effectively for refresher training as sales teams can review information frequently and as often as they need to.
Effective use of gamification in your microlearning content strategy enhances the learning & enablement experience. Setting goals for learning during sales onboarding, or a new product launch, etc through gamification and giving sales reps the opportunity to practice what they have learned in a fun environment leads to improved retention, more confidence & higher chances of application of learning on the job.
In summary, Microlearning is quicker to develop, less expensive to constantly change and takes up much lesser time by filling the gaps in your sales team's work schedule.
By building a habit for learning & enablement among your sales reps during their downtime, microlearning also generates more powerful and precise data points for sales leaders to make better decisions when it comes to forecasting, workforce planning, sales readiness, product launch, driving compliance & much more.
For more information on how microlearning can be leveraged by your frontline teams to improve capability and productivity, drop us a note at [email protected]