According to the book Silent Messages (1971) written by Dr. Albert Mehrabian, a sales rep and a prospect communicate 7% through words, 38% through the tone of voice and 55% through body language.
But with the current pandemic, things have changed drastically. We can no longer rely on face-to-face meetings for selling and need to implement newer selling strategies that may be radically different from the conventional way of selling. Now that conversations have become virtual and we can't look face-to-face to determine the prospect's their reaction, we need to look for other ways to create a lasting impression and read the prospect's body language. Given the limitations, everyone is using similar mediums like SMS, videos, and emails to communicate.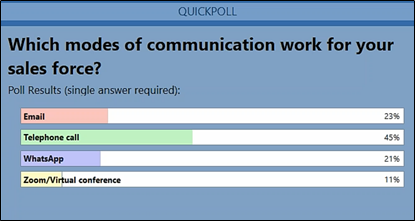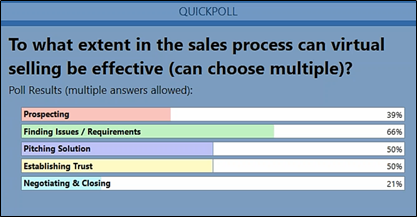 In a poll conducted during the webinar Selling In The Virtual World, 45% people reported that telephone calls are effective for their salesforce. However, people also reported that sales calls are 66% effective in finding your customer's requirement but only 21% effective in negotiating and closing sales deals. Now, the current situation in not likely to change anytime soon and hence, we need to enhance our ability to close deals on virtual platforms. So, what should one do to standout, make a difference, and close more deals successfully?
Here are 5 ways to ace your remote selling strategy and effectively close more sales deals.
1.     Use video conferencing tools
Use video conferencing over telephonic conversation even if it is just for the final conversation. Video sets a casual and warm tone for the conversation and effectively demonstrates your willingness to align with the prospect. It helps you to gain your prospect's attention, create engagement and sense their reaction. You can also leverage other tools such as presentations, polls etc. to make the sales conversation engaging. You can further use small videos instead of emails to share any small & specific details about your products/services etc. For instance, a 30-second video snippet can highlight how data analytics can help correlate learning effectiveness with business results.
2.     Research the decision maker
In the beginning of your sales conversations, make sure that you research the primary decision maker and take their inputs on the kind of solution that they seek. Asking the right questions to the right person helps in getting useful insights to tailor your solution based on the prospect's needs and meet their expectations. This significantly increases your chances of making meaningful progress towards closing a sale. For example: if you are selling a leadership training solution and know that your primary decision maker's expertise is in leadership enablement. Now, you must focus your pitch more on the specific leadership parameters that your solution addresses rather than providing a generic view. You can share how your solution gauges an individual's current level of expertise and provides a more customized and effective learning material based on the need.
3.     Redefine your sales pitch
It is incorrect to assume that what worked for you offline will work for you online as well. Your messaging should match the situation. It is good to compensate for the formal nature and limitations of a virtual conversation with a bit of a casual small talk to bring everyone at ease. You need to spend more time on building rapport with your customers and be confident in your speech. In a video conference, any kind of hesitation and fumbles are evident. Therefore, practice well so that you can make a lasting impact.
4.     Overcome objections
A closing sales conversation does not necessarily mean that all your customer's questions have been answered. Your prospect may have some final questions. Being able to anticipate these questions and preparing for them can help you to reduce the risk of resistance from the prospect. Additionally, make a note of these common objections and make them available to everyone in the form of ready reference material, learning aid or mobile learning module that can be accessed easily on mobile. This repository will help others as well to quickly refresh their knowledge.
5.     Invest In Remote Sales Enablement
It is hard to keep ourselves motivated during these times, but it does not mean we should not assume that our prospects are not going to purchase your products. Even in a post COVID environment, some businesses are thriving, and buyers continue to invest in new products and services. You just need to find ways to in which your company and product can stay relevant and help people at this time. Provide your sales reps with the tools and support that they truly need to excel while working remotely. You can virtually equip your salesforce on digital sales enablement by providing training on new ways of selling. Using easily accessible learning material such as mobile learning helps to refresh the concepts prior to any sales call and be prepared to have a successful interaction.
All these are essential skills but can be mastered over time with sufficient learning and practice. Learning support is at the core of pivoting to new sales strategy. It can help your sales reps to give their best during these challenging times and perhaps be able to close more sales deals. Want to upskill your workforce to continue to sell more during these unprecedented times, reach out to us at [email protected]