Sales cycles, process workflows, customer expectations and all things business are becoming increasingly complex and are taking more time than ever before. Consumers are more informed with evolving expectations. These growing changes require effective customer engagement at every moment and  across virtual and face-to-face interactions to create habitual differentiators for growth.
Across roles, geographies and levels, traditional roles are being upended due to changes in technology, customer behaviour and many other socio-economic factors. With so much change and so much at stake, the need to assess the readiness of an organization's workforce has never been greater.
What is Workforce Readiness?
Workforce readiness entails having the right set of skills, competencies, knowledge & agility among new & existing employees to be relevant & proficient at the workplace for today's new age roles.
As an example, it could involve assessing whether the salesforce possesses the skills and knowledge they need to have effective conversations throughout the customer's buying journey. The prime goal of any sales readiness program is to prepare the field force to close more and better-quality deals. It means to empower customer-facing employees to present the right information to engage with prospects at every step of the sales journey. Every sales interaction with the buyer should leave them feeling satisfied.
At a broader level, an effective workforce readiness initiative has the following benefits:
·       Reduces ramp time
·       Minimizes employee attrition
·       Boosts morale and engagement
·       Improves field force productivity
·       Increases sales conversions
·       Reduces complaints & escalations
·       Enhances process & operational efficiencies
·       Improves organization communication and
·       Cements more meaningful relationships, internally and with the customers
Assessing Workforce Readiness
As more organisations shift to remote working models, sales managers are forced to assess the readiness of their teams in line with this changing reality. Situations such as the ongoing health crisis brings with itself an opportunity for organisations to re-evaluate the skill set of their employees. One of the major changes this year for sales leaders, for example, has been the movement to an effective remote selling model. With 96% of  companies adopting remote selling,  sales leaders need to ensure high coverage & conversions from their remote salesforce. A starting point to achieve this objective would be to first assess the salesforce's readiness to transition from a high touch point, physical sales model to a low touch, low trust telephone selling approach.. By assessing the salesforce's readiness in this context, the organization will uncover hidden truths not only on the sales teams' skills, but also identify opportunities to enhance its:
·       Processes
·       Products & solutions
·       Customer support, operations and much more
With many organisations embracing microlearning to address the changing learner preferences, coupling it gamified assessments can create an effective approach to assessing the readiness of their salesforce (and overall workforce).
Here are four ways how gamified microlearning can help you assess the readiness of your workforce, in general:
1.      Identify & develop New Competencies: Providing the workforce with  bite-sized microlearning content at regular intervals can assess core competencies required for effective performance. By identifying gaps within the competencies, newer competencies or areas can emerge on which to assess, develop and ready the workforce.
2.      Rapid Rollout: Workforce readiness requires a rapid approach to author, rollout and complete the readiness assessment initiative. Gamified microlearning has reported to reduce the time to author digital, yet highly engaging content by 67%. By applying the right data science principles to the process, we'll be able to identify highly relevant and well-structured content that quickly assesses the workforce on it's readiness across functional, technical, behavioural skill sets.
3.      Simultaneous Assessing & Upskilling: A game-based learning loop ensures high repetition and repeatability in the assessment process, resulting in 8 to 10 times more data points per employee. This repetition in the assessment through gamification causes reinforcement of learning as an added benefit; something a traditional approach to workforce readiness through a survey or traditional assessment would not be able to deliver. A simultaneous approach to workforce readiness through microlearning and gamification saves time for the learner.  
4.      More Quantified Insights: Extending the above point, managers can identify newer data points and metrics to better measure workforce readiness such as:

Each of these data points can showcase new insights to aid managers uncover faster and better ways to upskill their workforce, in addition to identifying in which skill sets are they showing poor readiness.
To conclude, workforce readiness is an increasingly relevant and critical aspect for business leaders to get a pulse on their workforce. In addition to insights on skill gaps, it can act as a proxy for employee engagement & morale as well as create the right environment to define and develop a learning culture.
Organizations at the forefront of people practices are not only assessing the state of readiness among their workforce, but are also pioneering new practices such as microlearning & gamification to maximize the outcomes from their workforce readiness initiatives.

Coming Soon: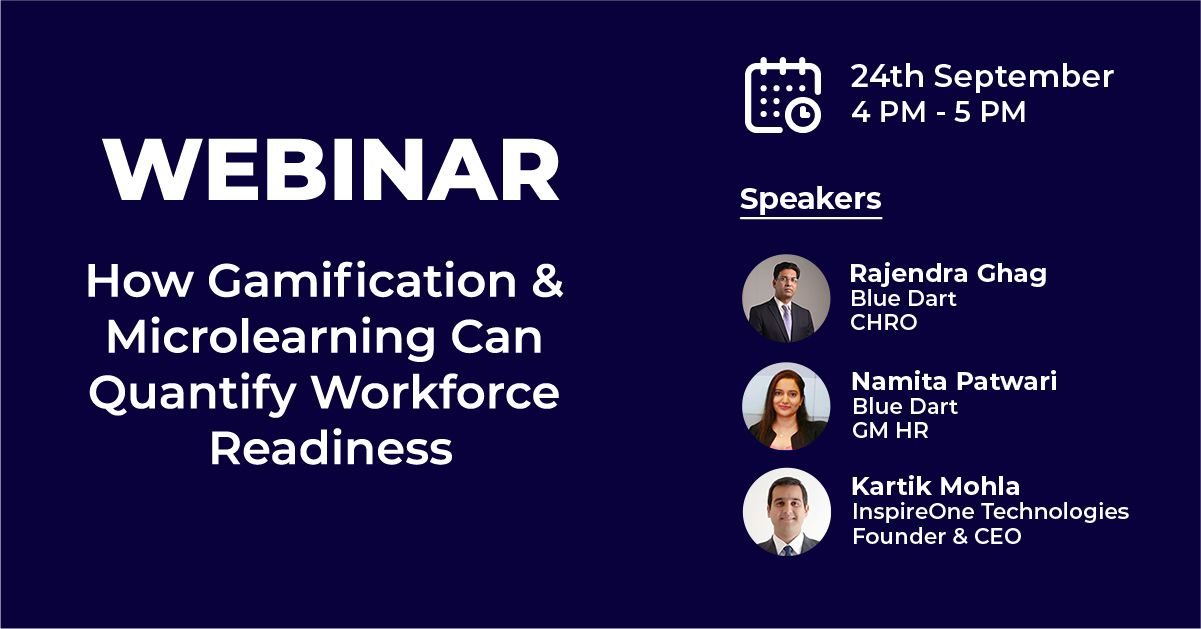 Master-O, in collaboration with Blue Dart presents "How Gamification & Microlearning Can Quantify Workforce Readiness". Join our webinar on 24th September 2020 where leaders from Blue Dart will share how organizations can leverage gamification and microlearning not only to personalize learning but to quantify workforce readiness in the new era.